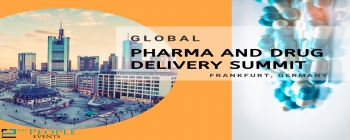 The Global Pharma & Drug Delivery Summit 2022 would like to welcome all the pharmaceutical professionals and companies, students, researchers, scientists, practitioners, medical specialists, clinical scientists, technologists, and other healthcare professionals to participate and speak at our prestigious Pharmaceutical Summit 2022 slated on August 22-24, 2022 in Frankfurt, Germany.
This Pharma Summit 2022 revolves around the theme – "Together with Pharma Masterminds: Opportunities, Technology, and Challenges". The Pharma Summit 2022 will help the delegates to establish their research or business relations as well as to make international linkage for future collaborations in their career path. Your presence will be much appreciated.
This global meeting is a one-of-a-kind event, where you will have a chance to discuss, access to key benefits of the upcoming sustainable and highly innovative sectors in pharmaceutical R&D. It is one of the largest pharmaceutical conferences in the industry, has a lot to offer you. There would be several sessions at Pharma Summit 2022; right from Opinion makes Discussions, exhibition, networking with peers, to high-end conferences, luncheons, creating it exceptionally worthwhile. 
Objectives of Pharma Summit 2022
To provide attendees with an in-depth knowledge of the novel drug system and formulation research technique being employed by scientists, chemists, and pharmacologists worldwide;
To enhance participants with an understanding of where the pharmaceutical sciences and drug development sectors are heading over the next decade, so that they may line-up their career objectives, accordingly in order to raise themselves exceptionally;
To spread the enlightenment of drugs and vaccines (for both old diseases and new ones) amongst healthcare professionals, scientists, surgeons, doctors, pharmacists, nurses, and physicians;
To promote awareness on development efficacy and ethics to Board Members, Managing Directors, CFOs, CEOs, and other top executives from various pharma and drug-producing industries spread all over the Globe;
To encourage research funding and the flow of reproving financial support to scientific projects and travel the world over, that is on the edge of making major advancement that will have crucial importance on the way medical science is dispensed the world over;
To provide medical practitioners, and physicians with the latest guidelines on how to go about diagnosing infections and diseases (that scientists have made more discoveries about over the past few years), as well as the refurbished specifications for prescribing the most appropriate course of medication for patients of their illnesses;
To boost and promote pharmacology and pharmaceutical science research professionals to wander into the study of new viruses, bacterial infections, diseases, autoimmune disorders, cerebral conditions, etc, and not to stick to the field that already has a considerable number of research projects;
To highlight on novel drug system, testing, and deployment techniques that will make easiest and quicker for pharma companies to discover, test, and market their new products more proficiently.
For more deatils Click here
How to get there
Frankfurt, Germany
Mainhaus Stadthotel Frankfurt
Lange Strasse 26
60311 Frankfurt am Main
Tickets info
Name: Scarlet Grand
Phone: +1 256 240 0136
-
Frankfurt, Germany