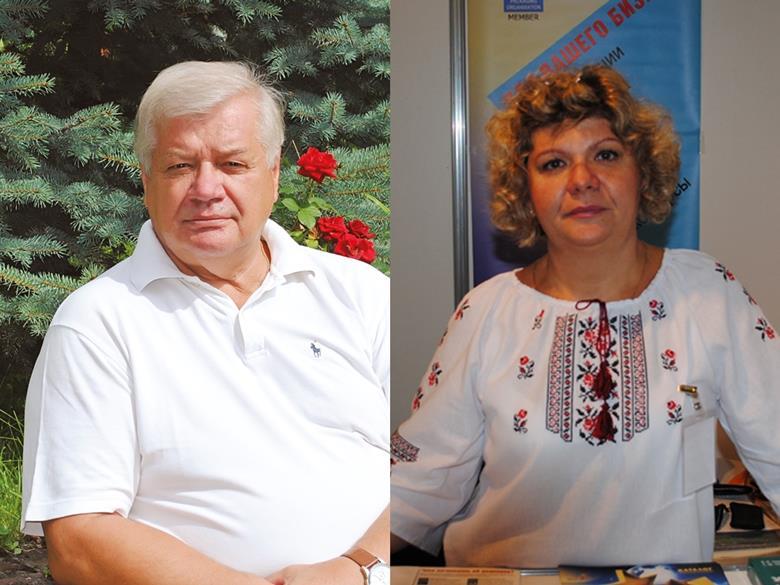 First things first – how are you and your colleagues? Could you let us know about your personal experience of the past few weeks?
Frankly, I believed that Russia would not wage such a large-scale war with Ukraine. Especially such a treacherous attack. Although my personal and my family things were ready at home.
When we heard that Russia had attacked and the war had begun, our first question was: what should we do? We decided that it would be better if our association continued its work abroad. And on February 26, my family and I were already moving across the border with Moldova.
Then there was Romania, Hungary, Slovakia and on March 1 we arrived in Poland. Here we were met by friends from the Polish Packaging Association - Polska Izba Opakowan. Our old connections helped us. We immediately contacted WPO and EPIC, Club is a member of both, and started working. Today we keep in touch with Ukrainian companies and help them solve their problems.
Veronika Khalaydzhi: In our family, we were preparing for the Russian attack, but until the last moment we hoped that Russia would not do it. My mind does not want to accept that in the 21st century, citizens of the neighboring country, who called Ukrainians a "brotherly people", bombed maternity hospitals, homes, schools, kindergartens, captured and killed women, children and the elderly.
But now this is our reality. And we must be strong to defend our homeland, defend our independence and defeat the enemy. Currently, members of our team are both in Ukraine and abroad. We keep in touch and help as much as we can to bring our victory closer.
Broadly speaking, how has the war in Ukraine affected the Ukrainian packaging industry thus far?
Veronika Khalaydzhi: Today, it is difficult to assess such an effect. Ukraine has the capacity to produce almost all modern packaging materials, various types of packaging and packaging equipment. But businesses located in cities where hostilities are taking place have been shut down, and some of them have been damaged or completely destroyed. This applies to the eastern, southern and northern regions (Odesa, Kherson, Kharkiv, Sumy, Lugansk and Donetsk regions), as well as the region around Kyiv. There are productions of cardboard and corrugated cardboard, packaging made of these materials, packaging made of various polymers, glass and aluminum, production of packaging equipment. In other regions, companies are trying to work.
But there are not enough raw materials. Some had to reduce their capacity because their workers went to the army or the ranks of the territorial defense. Today, Ukrainian packagers need raw materials - cellulose, waste paper, polyolefin polymers (polyethylene and polypropylene) and PET.
Looking ahead, how do you expect the war to affect the industry into the future?
Valeriy Krivoshey: The war will definitely have an effect, and the impact depends on many factors. First, the duration of the war. We hope that our soldiers as soon as possible defend our Ukrainian land, because we will definitely win.
Secondly, there is the level of destruction at packaging plants, because the enemy is destroying everything, including enterprises. Before the war in Ukraine, per capita consumption of packaging was 80-85 kg per year. This is 2-2.5 times less than the European average. But most of the food the population bought was in modern packaging.
For example, Ukraine produces 90,000-95,000 tonnes of PET beverage bottles, 700,000-750,000 tonnes of transport packaging from corrugated cardboard, and 900,000-950,000 tonnes of glass bottles and cans annually.
Ukraine produces heat-shrinkable and stretch films, thermoformed PP packaging, tin and aluminum cans and many other types of packaging. All these enterprises use modern technologies and equipment, both foreign and domestic, for the manufacture of packaging materials and packaging of various products.
And today, some of them are damaged or completely destroyed. After the war, all this must be checked, analyzed, and an expert assessment made by each enterprise. We are currently developing a program that includes an analysis of the state of the packaging industry after the war.
What do you make of the global packaging industry's response to Russia's invasion of Ukraine?
Veronika Khalaydzhi: We are in touch with colleagues from WPO, EPIC and national associations around the world. We are called and supported by colleagues from Poland, Netherlands, Great Britain, Latvia, Lithuania, Georgia, Czech Republic, Slovakia, Italy, Germany, Finland, Romania, Sweden, Spain, Turkey, Lebanon, Croatia, Kenya, South Africa, Ghana, Chile, India, Brazil, Australia, Hungary, Indonesia.
EPIC has already adopted a resolution condemning Russia's military action in Ukraine and supporting Ukrainian packagers. It has also pledged to support Ukrainian packaging companies and the Club Packagers in all its activities. The WPO is also currently preparing a resolution on its negative attitude towards Russia's military actions in Ukraine.
We will need special help after winning the war, when we will rebuild our packaging industry. We hope that even then, packagers around the world will give us the help we need. It will be necessary to create an international fund to help rebuild Ukraine's packaging companies. We think that many companies will join this assistance, and national packaging associations will be the initiators of such a fund.
Going forward, how can the packaging industry support its Ukrainian colleagues? Do you have a message you'd like to send to them?
Valeriy Krivoshey: First of all, on behalf of all Ukrainian packagers, we thank everyone who supported us in such difficult times. Thank you for your support, for your advice, for your concrete real help. Thank you to Packaging Europe for this interview, as well as for the opportunity to tell about Ukrainian companies on the magazine's website.
We are currently preparing such information. We have already felt that we are not alone in our troubles. The Club Packagers of Ukraine is open to any cooperation with any association or company that wants to help Ukrainian packaging companies. We are in touch. Thanks again.