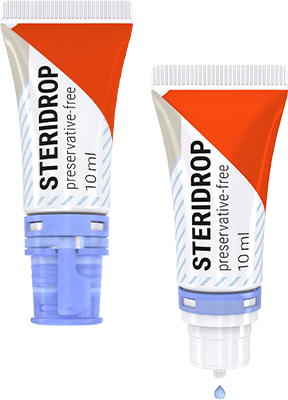 Protection against microbiological contamination
Preservatives in Eye Care formulations, such as Benzalkonium Chloride (BAC), can lead to side effects with chronic use. The SteriDrop tube combines the unique and well-proven characteristics of a tube with the Ophthalmic Squeeze Dispenser (OSD) from Aptar Pharma. Formulations without preservatives – SteriDrop tube makes it possible!
The packaging concept now proves highly conducive to protecting preservative-free eyedrops from microbiological contamination before, during, and after initial consumer use. SteriDrop tube can contain volumes up to 30ml, which can easily cover a three months' supply of daily eye treatment.
Advantages of the SteriDrop tube
Increased barrier properties vs. PE bottles and Blow-Fill-Seal systems
Filling volume up to 30 ml possible
Advanced decoration possibilities
Patient-friendly packaging with an intuitive "squeeze" feature
Microbiologically tested
All components are FDA reviewed
Multidose system prevents packaging and product waste
Functional for liquids and gels
CMO network for filling and sealing
Applications for SteriDrop
Preservative-free eye drops
Enteral drops
Cosmeceuticals
https://www.neopac.com
+91 22 61 80 53 00 ( India ), +1 252 674 1613 ( US)