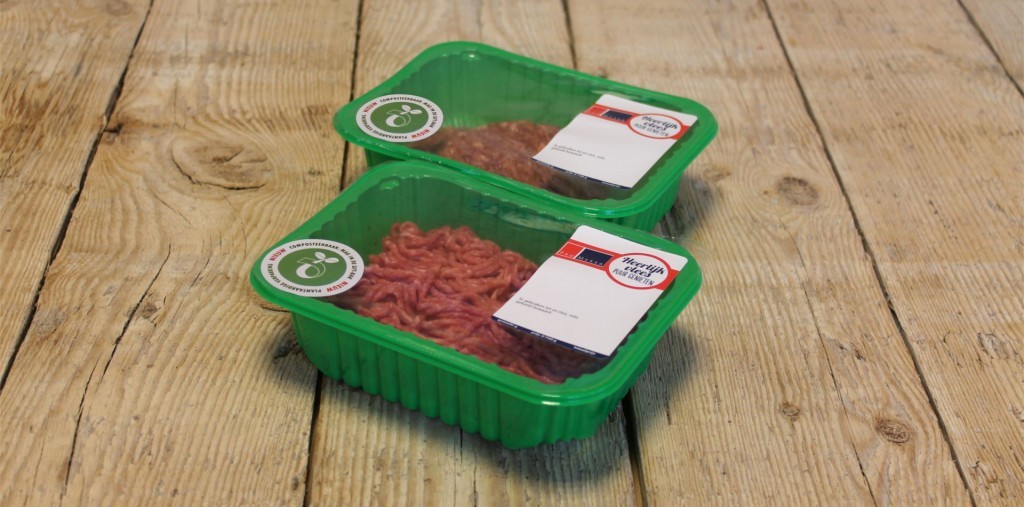 Years of development result in a unique, compostable bio-based packaging for fresh meat
The development of the compostable packaging for fresh meat has not been an easy process. Bio4Pack was determined to develop a packaging that fully complies with the strict requirements of the EN13432 certification standard pertaining to compostability. Concretely, that meant that the dish, the foil, the absorption pad, the label and the ink on the label all had to meet this standard. The dish in particular presented quite a few problems to overcome. The dish is made out of PLA (polylactic acid), which is made from sugarcane. This material is naturally hard but brittle. It took some time to find an impact additive that gives the dish the required strength, while still meeting the requirements of the EN13432 standard. The search for a pigment that gives the dish its characteristic green colour and meets the EN13432 standard was also more difficult than expected. Eventually, Bio4Pack managed to develop a packaging for fresh meat that meets all requirements pertaining to compostability and food safety and can effortlessly be included in existing production lines.
Compostable packaging for fresh meat now used by various retailers in the Netherlands
From Saturday 2 December, several members of Dutch retail organization Superunie (e.g. Coop, Poiesz, MCD, Boon and Spar) will add the compostable packaging for fresh meat to their product range. These organisations will package their organic meat in this renewable and compostable packaging for fresh meat. Furthermore, LIDL will use this packaging solution for its rooster burgers.
Compostable bio-based packaging is part of the answer to the Dutch circular economy programme
In the government-wide circular economy programme, the government has outlined its intention to focus on the development of a circular economy that can be realised before the year 2050. This has created a perspective on a future-proof and sustainable economy that will also benefit future generations. Specifically pertaining to plastic, the goal is to use 100% renewable (recycled and bio-based) plastic materials that are not harmful to the environment, wherever it is technically feasible to do so. In concrete terms, this means that in 2050 raw materials are used and reused efficiently, without any emissions that harm the environment. Insofar as new raw materials are needed, these will be acquired in a sustainable manner and further harm to our social and physical environment and our health will be prevented.