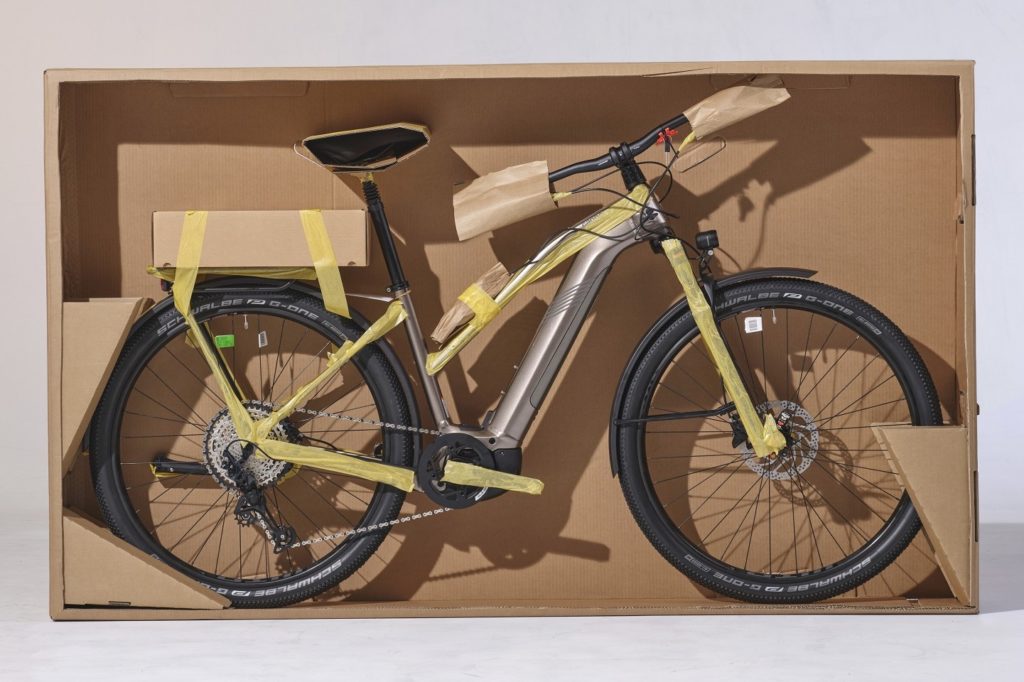 Cannondale is the first brand of the Cycling sports Group to introduce a 100% recyclable bicycle packaging in Europe as part of its commitment to reduce waste and simplify bike assembly. Developed by Cycling Sports Group Europe, the new packaging will also be used for the company's other brands worldwide in the future.
While cycling can be viewed as one of the greenest modes of transportation, it is an industry whose packaging leaves much to be desired in terms of sustainability. Products leave factories in boxes filled to the brim with tons of unnecessary single-use plastic, foam, zip ties and more. "Our objective was to design a better packaging system," said Eugene Fierkens, General Manager for Cycling Sports Group Europe. "Make it better for the environment, make the packaging protection stronger and significantly reduce assembly time. This is better for the planet, a gift for bike shops, and a win for our customers." Following a successful phase one implementation of this program in Europe, Cycling Sports Group will apply these learning to other regions globally.
Netherlands as starting point
At its European assembly facility in Oldenzaal, Netherlands, Cannondale has eliminated use of all plastic tape, plastic bags, foam, PVC, and zip ties from its bicycle packaging. All bikes are shipping from this facility using only FSC-Certified cardboard; natural, plant-based inks; and the tape used is biodegradable fiber reinforced paper tape. Following a successful phase-one implementation of this program in Europe, Cannondale will apply these learnings into other regions globally.
"We have also asked our suppliers to make their packaging recyclable to increase the impact on sustainability but the implementation will be a longer lasting process," explains Bjarke Rasmussen, Cycling Sports Group VP global strategy and GM for sourcing and operations. "Bosch has already start to make their packaging more sustainable."
Better Protection for Cannondale bikes
"We have developed two set-ups. A drive out box for the complex bikes and a smaller box for the compact bikes without fenders and racks. Our bicycles will be better protected and safe in transit with the new packaging. Rice tape will be used to protect the frames from damage while cardboard disc brake rotor protectors, wheel sleeves, and multi-functional wedge inserts will be used to keep the bikes protected and in place in the box. A specially developed carton fork protector for the compact bikes is stronger than the original plastic one. Finally, the box can be used multiple times as it comes without any staples or plastic tape."
The traditional bike box came with 20 liter of landfill waste as most of the plastic used was non-recyclable. The new packaging is made of 20% FSC approved carton, 80% recycle carton and some rice paper tape.
Final assembly time reduction
"Cannondale bicycles assembled in Oldenzaal are also shipping 95% assembled, cutting build time for the dealer by at least half, once out of the box," says Bjarke Rasmussen. "
Brakes and gears will already be adjusted with the brake hoses attached. Additionally, if a bike is equipped with fenders and a rack, it will be shipped with the front wheel on, making assembly even faster. The introduction of this system had an impact on the production planning only, and not on the lead-times in the factory."
Rasmussen explains that the new packaging doesn't add any costs. Obviously Cycling Sports Group made the investment for the development, but did not apply for any patent or other protection of the idea. "It is free to use by any other market player as it will contribute to make the bicycle industry more sustainable."
Sustainable supply chain
The relevance of the development of this recyclable packaging came forward earlier this week, when the European Justice Commissioner Didier Reynders outlined a plan to make supply chains more sustainable. Politico reported last Tuesday that in the new plan "Companies will have to publish a long term strategy showing the potential impact of operations to have real accountability to citizens." The Commission is preparing a draft law on due diligence, which would push to make EU companies legally responsible for ensuring their supply chains are sustainable and free of human rights abuses. Brussels plans to present the law next year and it recently launched a public consultation on the topic.