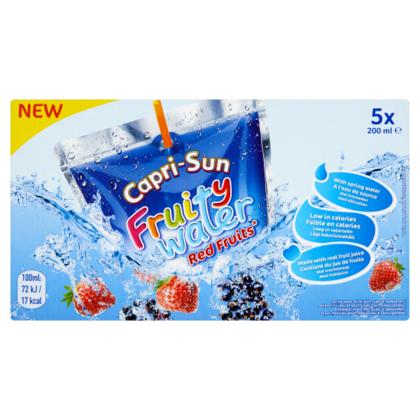 Capri-Sun Fruity Water is available in 10x200ml multipacks, with a choice of two flavours: Mango-Passionfruit and Blackcurrant. The new range will benefit from vibrant packaging, encouraging greater stand-out on shelf.
The product is aimed at parents who are encouraging their children to consume more water, by offering a combination of refreshment and great taste in a fun pouch.
A blend of 3% fruit juice with water and no artificial colours or preservatives, it is the latest no added sugar variant in the brand's portfolio, joining Capri-Sun No Added Sugar and Capri-Sun Fruit Crush. Its introduction comes as part of the brand's commitment to providing shoppers with a range of options to meet their needs, as the demand for low sugar soft-drinks continues to rise.
Its launch will be supported by sampling, couponing and a social media campaign and retailers will receive branded quarter pallets and point-of-sale materials.
Caroline Cater, GB operational marketing director at CCEP, said: "The introduction of Capri-Sun Fruity Water is the latest step in our commitment to supporting retailers by providing a range of products that offer an exciting choice of options to consumers.
"Capri-Sun is a long-standing favourite of both adults and young people alike, and by combining its popularity with that of the growing water sector, the launch of Capri-Sun Fruity Water will offer retailers a great opportunity for incremental growth."