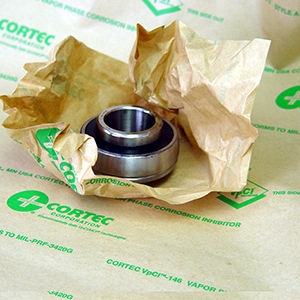 PRODUCT DESCRIPTION
CorShield®VpCI®-146 with Eco-Bio ™ technology is a premium anti-corrosion paper and is used in industry. It is based on Cortec's patented biodegradable technology to prevent volatile phase corrosion and can be composted, which has revolutionized the way metals are protected in closed packaging.

Both sides of CorShield® VpCI®-146 paper offer effective protection for ferrous and non-ferrous metals by eliminating the need to purchase different types of paper for different types of metal. Simply
wrap the items in paper and fold the edges together, gluing as needed to hold the paper in place . VpCI® coating on
the paper is volatile so that it reaches all metal surfaces inside the package and thus provides complete corrosion protection with a very thin, very effective VpCI® layer that does not change the appearance of the product or requires removal before further processing or use.

CorShield® VpCI®-146 paper is made from 100% recycled paper and can be completely recycled / repulped. It is biodegradable and can be composted. It contains 92% of USDA certified content on a biological basis and is a qualified product under the mandatory federal initiative to purchase the USDA BioPreferred® program.