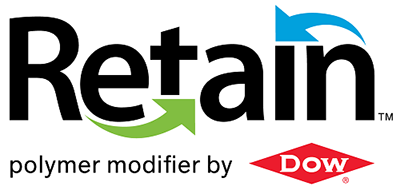 This allows for an increased use of recycled plastic materials and provide an incentive for recovery of post consumption plastics waste.
The food industry is increasingly using barrier packaging to extend a product's shelf life. Trims and scraps of barrier films are not easy to recycle due to the incompatibility of polar and non-polar polymers. Barrier film converters end up giving away these scraps at practically no value as they are not able to reuse the scraps in new films. They are now paying more attention to resource management and waste reduction at their facilities to increase their profitability.
Greg Bunker, global business director for Specialty Plastics of Dow P&SP said, "With Dow's RETAIN™ Polymer Modifiers, barrier film converters will be able to recycle up to 100% of their scrap and meet converters' and industry's sustainability goals. RETAIN™ Polymer Modifiers were developed using Dow's extensive knowledge of material science and reactive chemistry to enable the efficient compatibilization of two otherwise immiscible materials while maintaining critically value added physical properties. RETAIN™ 2000 is most specifically designed to compatibilize polyamide (nylon) and ethylene-vinyl alcohol (EVOH) into a continuous polyethylene matrix."
Jigish Doshi, CMD of Vishakha Polyfab Pvt Ltd, said, "We at Vishakha always strive to be in businesses which contribute to the sustainable growth of the country, such as enhancing agriculture, storage solutions and packaging material for a longer shelf life with renewable energy participation. With this new development we have added a new tool to our tool box by offering a recyclable barrier film solution which will not only add to the shelf life of the product but also help our community through the recycling of packaging material."
Vipul Babu, sales director for Dow P&SP, India Sub-continent, added, "This was a joint effort between Dow P&SP and Vishakha team, to develop a nylon-based barrier film empowered with Dow's RETAIN™ Compatibilizer to make it recyclable. The project was triggered by an initiative with India's leading edible oil brand, and will lead to manufacturing and potential recycling of over 20,000 MT of barrier film in India."
This innovative technology is based on a reactive, ultra-low viscosity compatibilizer. Reactive groups "coat" the polar components, encapsulating them into micro-domains to enable excellent dispersion. When blended at specified ratios with pelletized barrier film recycle streams, the RETAIN™ polymers allow converters to recycle barrier film trim back into film production without sacrificing optical or physical properties.
The benefits include:
Opportunity to make better use of recycle stream (versus selling for low value or landfilling)
May eliminate or reduce costs associated with collecting, packaging, and selling scrap
Could reduce costs by utilizing scrap for bulk layer
Potential to meet company's or industry's sustainability goals (e.g., "Zero-Landfill" objectives)
Option to make post-industrial recycle content claims