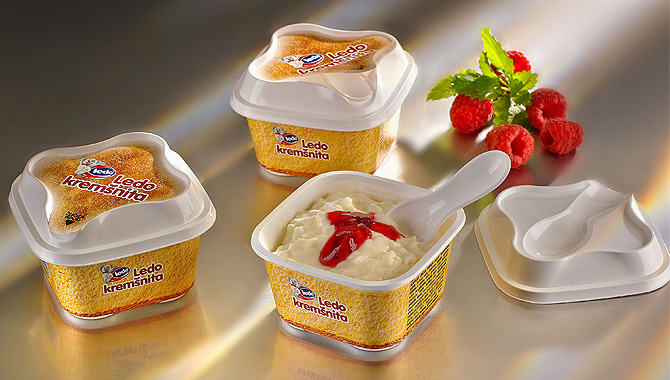 The dessert combines delicious custard with whipped cream and pieces of waffle to create an ice cream, and the award-winning EasySnacking™ pot, supplied its 210ml size, provided the ideal packaging format, as Lovro Vučković, Product Manager at Ledo, explains.
"The EasySnacking™ cup is a great solution. The round edges look absolutely great and the integral spoon is fantastic. Kremsnita is a typical Croatian dessert traditionally served in square pieces, so the square shape of the EasySnacking™ container is a perfect match for our new product."
Ledo expected very good sales before putting the product on the market, and after a successful start, the company has achieved its sales target within the expected time span.
"We did not run any big promotion for the Ledo Kremsnita; all we did was one TV commercial where we introduced the current ice cream range," says Lovro Vučković. "Ledo Kremsnita was just one of ten types of ice cream, yet it got a good deal of attention. On various social media, we have found many pictures and positive comments about our dessert - and our customers love the spoon too."
RPC Superfos has been a packaging supplier to Ledo for several years, and the companies have an excellent working partnership as Lovro Vučković confirms.
"I only have good words to say about the support we get from RPC Superfos. They are helpful, proactive and engaged in our world. They know our products really well and I appreciate it when we get useful suggestions so that we can find the best possible packaging solution."
Ledo is the largest Croatian producer of industrial ice cream, and holds prominent market positions in Croatia, Bosnia and Herzegovina, Serbia, Montenegro, Macedonia, and Kosovo.