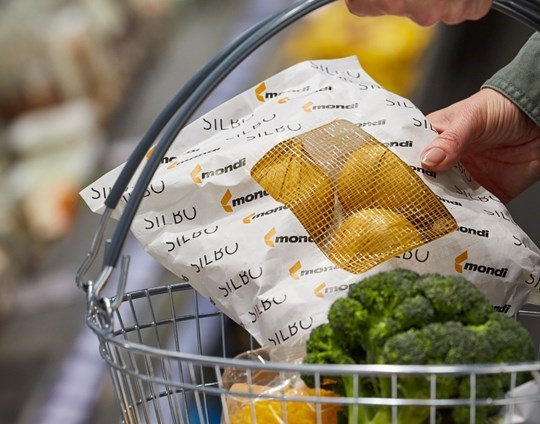 Mondi and Polish converter SILBO have developed a breakthrough solution: the first paper-based, biodegradable bag for food that runs on horizontal and vertical Form-Fill-Seal (FFS) machines.
SKOG for Food reduces plastic by up to 70% while retaining all the required barrier properties to keep food fresh longer. No further investments are needed to switch production from plastic to SKOG for Food.
SKOG for Food ('SKOG' is Swedish for 'forest') will be presented for the first time in North America later this month at PACK EXPO, in Las Vegas.
Biodegradable and made for FFS machines
The innovative bag is made of sustainable, FSC™ certified paper. Through Mondi's extrusion coating technology it is given a double-sided coating of the biodegradable barrier Sustainex®.
Sustainex® provides the required barriers and sealing properties needed to run on FFS machines. The paper's gas permeability properties are maintained, preserving and protecting fresh foods, such as potatoes, longer.
Sustainex® is derived from renewable materials and is fully compliant with international standards for biodegradability and compostability. It is eligible for organic recovery, energy recovery and material recycling. And of course it is approved for direct contact with food.
"SKOG is a natural product especially designed to fulfil ecological needs while protecting our customers' goods." said Jan-Willem Kleppers, managing director Mondi Extrusion Coatings. The new liner can perfectly support a brand's sustainability strategy, he added.