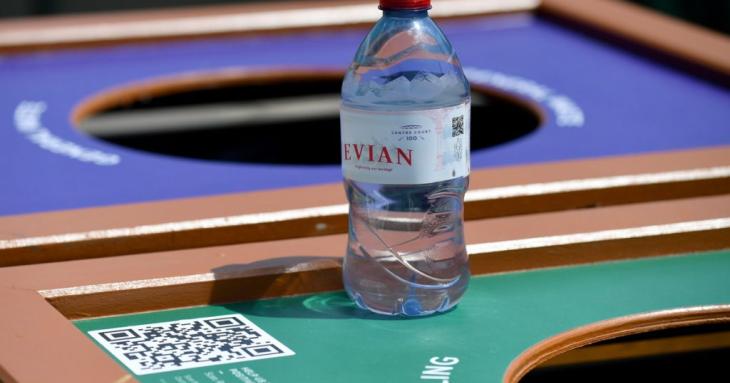 The brand said the pilot reward scheme, part of its longer-term commitment to become a 100% circular brand by 2025, will also explore how a digital Deposit Return Scheme (DRS) can be successful in engaging consumers and encouraging recycling.
Deposit Return Schemes are due to be introduced across the UK, starting with Scotland in 2023.
As the tournament begins on 27 June, visitors will be invited to take part in the digital scheme, running in partnership with digital green-tech company Reward4Waste, and incentivised to recycle their drink containers on-site and in specific points around Wimbledon town itself.
Attendees can recycle their water bottles and cans through a QR code that will be found on recycling bins across the grounds. By scanning the QR code and then the barcode on their evian bottle or can, attendees will be entered into a draw for a chance to win finals tickets to The Championships 2023.
"It's imperative to have an effective and efficient collection system in place to encourage and empower consumers to keep plastic out of nature and in the circular economy. That's why our latest trial at this year's Wimbledon Championships is a key step in exploring how digital technologies can play a role in helping implement deposit return systems, making recycling as convenient and engaging for consumers as possible."
The Reward4Waste web-app has been designed to reflect the distinctive Wimbledon environment. The innovative user-experience will allow evian to see whether an engaging digital platform helps to encourage consumers to recycle.
The evian web-app, in partnership with Reward4Waste, will track and encourage recycling behaviour at The Championships, bringing data and insights on recycling behaviour to help explore the role of digital technologies in encouraging recycling and in supporting future DRS initiatives.
Tony McGurk, Chairman, Reward4Waste, added: "We are looking forward to working with evian and are truly delighted to work together at The Championships, Wimbledon.
"Independent research points to huge benefits of Digital DRS, including traceability and transparency, rich data and insights, the use of existing waste infrastructure resulting in lower carbon and cost – not to mention making it very easy for people to do the right thing.
"Our recent Reward4Waste pilots saw an impressive 94% recycle rate, with significant consumer engagement across all ages and demographics, showing that digital return schemes are game, set and match for the future."