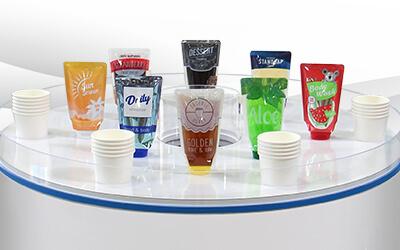 MENOMONEE FALLS, Wis., Oct. 11, 2018—Glenroy Inc., a converter and printer of flexible packaging for over 50 years, has been selected as the exclusive pouch converter of the new premade STANDCAP Pouch. Glenroy leverages proprietary VOLPAK converting technology to deliver the STANDCAP Pouch as a turnkey, premade pouch solution, with low cost-of-entry and no capital expenditures required. PACK EXPO International 2018 attendees are invited to try this category-changing package at Glenroy's "STANDCAP Squeeze Station" in Booth #S-4044.
The premade STANDCAP Pouch is an easy-to-use lightweight package that provides clean and controlled dispensing, eliminates the need for a utensil, and allows consumers to access nearly 100% of the product inside. In terms of shelf impact, eye-tracking studies within a retail environment performed by Clemson University and research firm Package InSight showed that the STANDCAP Pouch was noticed 40% faster and viewed 53% longer than rigid packaging.
The pouch's innovative closure by Aptar provides the pouch with stability and features an easy to open flip-lid closure, built-in tamper evidence and proprietary SimpliSqueeze® valve technology for superior dispensing performance. The SimpliSqueeze® valve provides mess-free dispensing and maintains product freshness between uses. The valve can be fully customized according to the viscosity of each product and the desired product stream.
The patented STANDCAP Pouch had previously been available to the market exclusively with VOLPAK horizontal form-fill-seal equipment. Proven in the marketplace, the STANDCAP Pouch allowed a leading brand to achieve a 69.7% sales increase and increase market share by 11%, while charging 25% more per ounce (compared to the same product offered in rigid packaging).
Manufacturing Solutions International (MSI) has been qualified as the preferred contract filler of the premade STANDCAP Pouch, and Viking Masek completes the supply chain with fill/seal packaging equipment for the premade STANDCAP Pouch.
According to Evan Arnold, director of product development for Glenroy, "The premade STANDCAP Pouch allows established brands to breathe new life into entire product categories, and provides a way for emerging brands to compete with larger CPGs in gaining market share. Now that the STANDCAP Pouch is available as a turnkey, premade pouch solution, this innovative package is within reach of more brands than ever before."
This new packaging format provides an ample roster of benefits for brands and consumers. Even when compared to the package's equivalent in rigid packaging—inverted squeezable bottles—the STANDCAP Pouch provides more controlled dispensing and requires less squeeze force to distribute product.