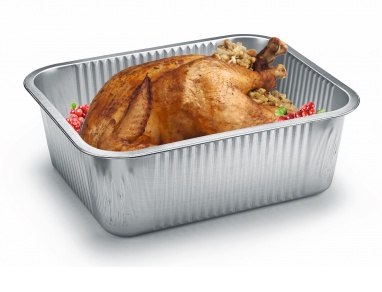 Leading aluminium foil tray manufacturers, i2r Packaging Solutions, has recently released what they say is the deepest drawn smoothwall container ever produced. Used by a major retailer for their seasonal four-bird roast product, the convenient tray is designed for top sealing large roasting joints and whole birds. Perfect for Christmas, the sturdy rectangular container is easy to handle, providing a depth to 110 mm and a capacity of 6,704 cm³, ideal for joints above 1.5kg.
i2r's Jon West said: "The aim of this particular design was to create a container that could provide enough capacity to roast large joints of meat or poultry, including turkeys. We were initially unsure whether the depth was possible, but our experienced development team were able to quickly deliver a fantastic solution. The container shows that i2r is focused on providing bespoke packaging solutions for food and can turn your innovation to reality in the fastest possible market time."
i2r's plain or lacquered smoothwall aluminium foil containers are perfect for packaging high quality 'ready to cook' convenience products including red meat, poultry, fish, vegetables, BBQ food and desserts. The containers have a smooth rim that can be lidded with film to provide a leak proof pack for food preservation over a long shelf life. This can be extended further by gas flushing if required using M.A.P. They can also be lidded with i2r's own range of plastic clip-on lids.
Operating as part of the Italian Laminazione Sottile Group - one of the leading global suppliers of aluminium products - i2r manufacture a comprehensive range of smoothwall and wrinklewall aluminium foil containers used throughout the food industry.
With food-to-go on the increase and the demand for branded, personalised paper on the rise, they have also recently diversified by manufacturing a range of the high-quality paper tulip wraps for cakes and muffins.
i2r is now the only European manufacturer to offer a single 'go-to' resource for both aluminium foil containers and FSC® certified tulip paper products, thereby providing their customers with the greatest market choice.