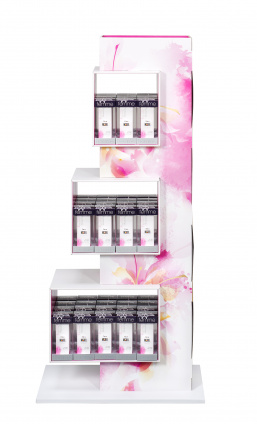 Model AG, Weinfelden – This display stands out! Last month at the Fachpack, Model presented its newest display for the first time. Its cubic design sets it apart from conventional displays and gives it a new fresh look.
In addition to featuring a striking angular shape, the cubes are constructed in such a way to enable a range of design options: the squares, which get smaller the higher they go, and the base are glued into place, while the display cover has been tucked in. Digitally printed, the display can be used for unique marketing activities.
Not only is the cubic display a clear trend setter, the hand cream packaging presented in the display impresses with its clever ingenuity, as it appears to float inside the packaging. We used innovative and sustainable materials to achieve this astonishing effect. We suspended the hand cream packaging inside a second packaging made from recyclable BIO-PET plastic film, which is fixed together with inserts at the top and bottom, giving a 360-degree view of it in the centre like an obelisk. The combination of bronzed, varnish and laminated effects with hot-foil stamping, debossing and textured embossing creates a charming retro effect. The metallic, matt film with a soft-touch finish offers a unique feel and look at the bottom, whilst the lid shines in a glossy acrylic film with an iridescent effect.