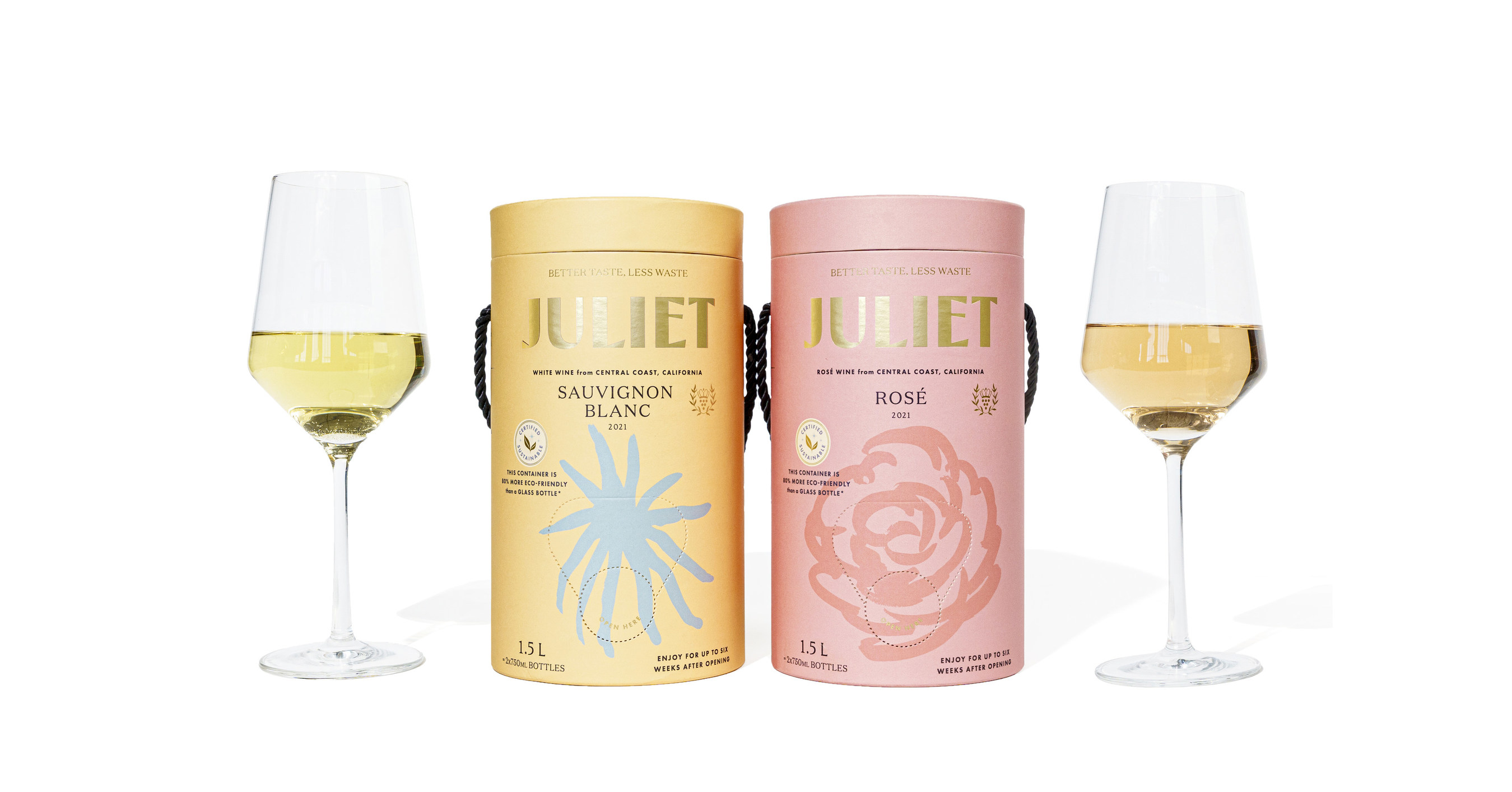 On a mission to create eco-friendly wines of uncompromising quality and design, Juliet launches its revolutionary brand of luxury boxed wines.  Debuting with a 2021 Sauvignon Blanc and 2021 Grenache Rosé, Juliet hails from a Certified California Sustainable Winery in the acclaimed Happy Canyon of Santa Barbara AVA. The wine is housed in a first-to-market cylindrical container deemed the "Eco-Magnum™", which holds two standard bottles of wine (1.5L). Developed by female entrepreneurs with women in mind, Juliet delivers an elevated day-to-day experience for discerning wine drinkers who prioritize sustainability."We recognized the unmet need for a sustainable wine that didn't sacrifice on quality, taste, or design. Boxed wine offered an eco-friendly packaging solution but hadn't yet reached its full potential, so we took the opportunity to innovate the category with an elevated aesthetic and truly superior wine," commented Lauren De Niro Pipher, Co-Founder and Co-CEO of Juliet. 
The Eco-magnum™ is multi-faceted and developed for convenience with superior design. The large format stays fresh for up to 6 weeks after opening and the proprietary, glass-free design with handle is ideal for on-the-go occasions, picnics, the beach, or at home fitting nicely on a refrigerator shelf. The airtight spout provides an "on tap" experience wherever you are, making Juliet a portable and durable choice for day-to-day drinking occasions.
"When we discovered that boxed wine presents an 84% lower carbon footprint compared to wine in conventional glass bottles, we were inspired to act. Juliet is here to reshape consumers' perspectives on boxed wine with a luxury product that not only shifts the culture of wine drinking but sets a new standard for sustainability in the industry," said Allison Luvera, Co-Founder and Co-CEO of Juliet.The wines are hand-made with quality that begins at the vineyard and carries on from the cellar to the glass. The grapes are first chosen based on terroir and sourced from some of Central Coast California's most renowned AVA vineyards, championing superior quality from the start. The ensuing winemaking style honors the natural excellence of the fruit by utilizing low intervention and zero artificial additives in the process, and the final product contains minimal ingredients which are transparently stated on the label for an entire paradigm shift on conventional bottles. The result is pure expressions of the vineyards, the vintage, and the fruit of the land – better quality that is better for you.