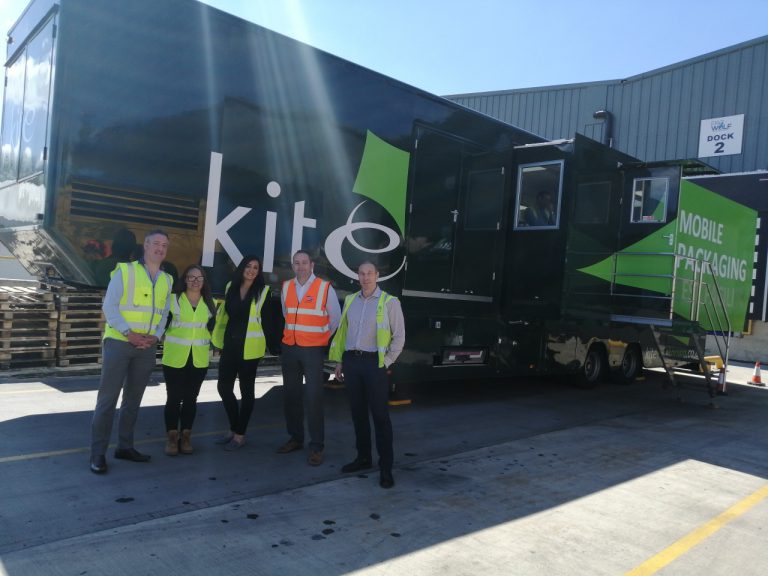 The visit was a great success with the Midlands and Pacwolf teams delving into the capabilities of a range of packaging solutions that accommodate efficient pick and pack operations.
The mobile facility has on board a range of packroom equipment, including a low profile pallet wrap machine, Sprick paper systems, 5×5 system, air cushioning and an over-head delivery systems, allowing our Midlands team to find the most effective bespoke solutions for Pacwolf and the other businesses who attended, accommodating their ideal requirements.
Pacwolf's waste recycling company, Baker waste, and a local chamber of commerce representative also attended the two day event to see the exciting potential of what's to come in terms of eco-friendly packaging solutions.
Managing Partner of our Midlands Regional Distribution Centre, Justin Filby said:
"A fantastic two days were had when we took the Kite Mobile Test Facility to the Pacwolf site. Everyone really embraced the MTF and Pacwolf used it as a platform to impress their customers and suppliers.
Over the two days we visited two of the Pacwolf sites and six of Pacwolf's customers attended. It really became an active workshop with Kite working with Pacwolf and their clients to develop and design environmentally conscious, protective packaging solutions. It was great to see all parties working together, focussing on developing such environmentally favourable packaging solutions and our customer benefiting from Kite's unique facility & in house expertise."