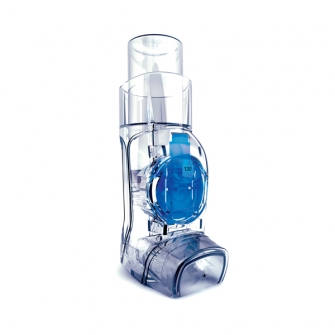 Landmark® patented mechanical dose indicator is designed to be easy to use with all metering valves. Landmark® helps improve patient compliance while remaining cost effective.
A color-coded numeric display is triggered by the mechanical counting device integrated into the actuator.
KEY FEATURES: Mechanical dose counting device with only 4 components. Easy-to-read color-coded numeric display. Compatible with all types of pMDI actuators including nasal pMDIs.
PRODUCT CHARACTERISTICS: Integrated into pMDI actuator. Suitable for inhalers dispensing up to 200 doses. Counts downward from label claim. Color coding for low dose warning and clear end of use indication. Eliminates risk of under-counting by design. Displacement-based counting mechanism is independent of actuation force. Mechanism does not interfere with airflow path. Color, shape and fit to actuator are all customizable.