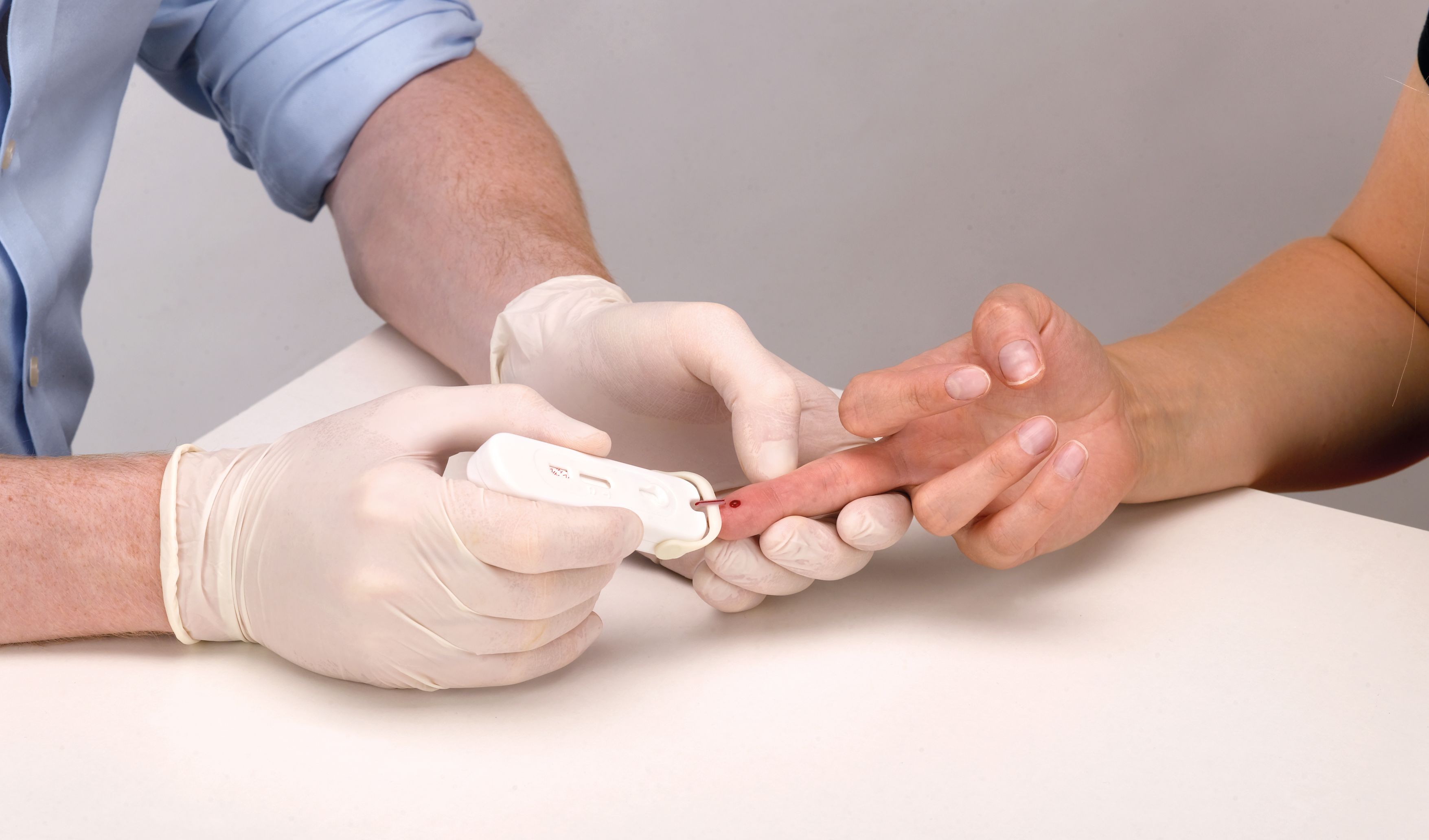 During the first few years of the HIV epidemic, a person who developed AIDS could expect to live for less than a year.1 In San Francisco between 1981 and 1985 – the year the first blood test for HIV was developed2 – median survival after AIDS was diagnosed was just 10.1-12.6 months.1 Today, the life expectancy for a person who is diagnosed and starts antiretroviral treatment (ART) rapidly after HIV infection probably approaches that of the general population.3
The World Health Organisation (WHO) set a global target that 90% of all people living with HIV know their status, 90% of those diagnosed as HIV positive start ART, and 90% of all people receiving ART show durable viral suppression.4 In 2017, these proportions were 75%, 79% and 81% respectively.5 Moving closer to the WHO targets depends on focusing on groups and areas with a high prevalence and improving access to high-quality tests to diagnose and monitor HIV.4 Currently, however, many people with HIV are diagnosed late despite the widespread availability of accurate tests.6, 7, 8, 9
Broadly, late diagnosis means that a person is diagnosed when their CD4+ T-cell count is below 350 cells/mm3. A person who is diagnosed when their CD4+ T-cell count is below 200 cells/mm3 has 'advanced HIV disease' (AHD). Patients at these counts may be asymptomatic or present with an AIDS-defining event (illness), such as Kaposi's sarcoma, Pneumocystis jiroveci pneumonia or cytomegalovirus retinitis.
People who start ART when their CD4+ count is below 350 cells/mm3 show a worse prognosis and have greater healthcare costs than those with higher counts.8 During the Insight Start study, for example, 4685 HIV-positive adults with CD4+ counts of more than 500 cells/mm3 started ART immediately or waited until their count fell to 350 cells/mm3 or they developed AIDS or another condition needing ART. The primary end point was any serious AIDS-related event, serious non–AIDS-related event, or death from any cause.10
During the average follow up of 3.0 years, the primary end point was 57% less common in those who started ART immediately. Serious AIDS-related events and serious non–AIDS-related events were 72% and 39% less likely respectively in those who started ART immediately.10
A study from England and Wales reported that people who were diagnosed late were 3.5 times more likely to die, usually from AIDS-related events. Mortality was 10 times higher during the year after a late diagnosis compared to those who were diagnosed rapidly.3 People diagnosed late are also typically unaware that they are HIV positive for approximately three to five years6 and, as a result, are more likely to transmit HIV than those diagnosed promptly.8
Despite the well-established benefits of early ART, the proportion of people diagnosed late in the UK remained approximately 40% between 2012 and 2017, when 43% of diagnoses were late. Moreover, 5% had a AIDS-defining disease at diagnosis.6 A Israeli study reported that of 356 patients with HIV, 33% were diagnosed late and 16% had AHD.7 In 20,965 patients from Holland, 53% were diagnosed late and 35% had AHD. However, the proportion of people with late presentation decreased from 62% in 1996 to 42% in 2013. The proportion with AHD decreased from 46% to 26% during this time.8
Overall, the European Centre for Disease Prevention and Control estimates that, depending on the country, up to 43% of people living with HIV in Europe remain undiagnosed. On average, 47% of HIV cases are diagnosed late and 28% of people have AHD. The proportion of people with HIV diagnosed late exceeds 50% in nine European countries, including Italy, Greece and Sweden.9
The introduction of the Simplitude™ Pro HIV (1&2) rapid diagnosis test at MEDICA, 2018 in Düsseldorf addresses this important issue, meeting the need for a reliable point-of-care diagnostic test (the overall sensitivity and specificity is 99.6%) that is simple to use and offers patients and healthcare workers the confidence to start ART and take steps to prevent transmission.
"Earlier diagnosis enables people with HIV to start ART sooner, which increases their chances of living a long and healthy life and reduces the risk of transmission," says Tania MacKenzie, Senior Product Manager for Diagnostics at Owen Mumford Ltd. "We believe that the convenience and prompt results offered by point-of-care tests, such as Simplitude™ Pro HIV (1&2), in community-based settings worldwide will help reduce the number of patients diagnosed late and so further improve outcomes for people living with HIV."