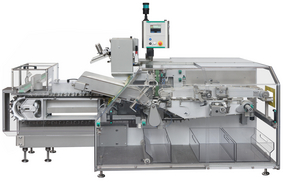 The Marchesini Group will be showcasing one of its great classics: the horizontal intermittent-motion cartoner MA 100. It is a versatile, ergonomic and efficient solution for cartoning pharmaceuticals and cosmetics. The version on show at PCI days, in particular, will have a manual loading system for packed lipsticks.
Some of the key features that make this machine one of the most reliable and compact solutions created by Marchesini are its balcony design, separate mechanical and infeed areas, total visibility of the whole process thanks to clear guards and panels, ergonomics and accessibility to all the groups, not forgetting how silent it is, thanks to the special conveyor design. The toothed carton conveyor belt makes the MA 100 the perfect machine not only for the pharmaceutical industry but also for cosmetics.
The carton magazine situated outside the conveyor systems offers advantages in terms of cleanliness, no dust on the products or mechanical parts, as well as ergonomics, meaning that the operator can quite easily load the products onto the machine. The motorised infeed of the cartons ensures smooth movement and perfect pick-up by the pick-up and opening device, which consists of arms that oscillate below the level of the work surface.
Another advantage of their position is that no carton dust is created on the machine surface or on the product. The carton is inserted into the conveyor, consisting of four toothed belts that ensure stability throughout the product insertion and carton closure phases, guaranteeing utmost handling care of the product itself.