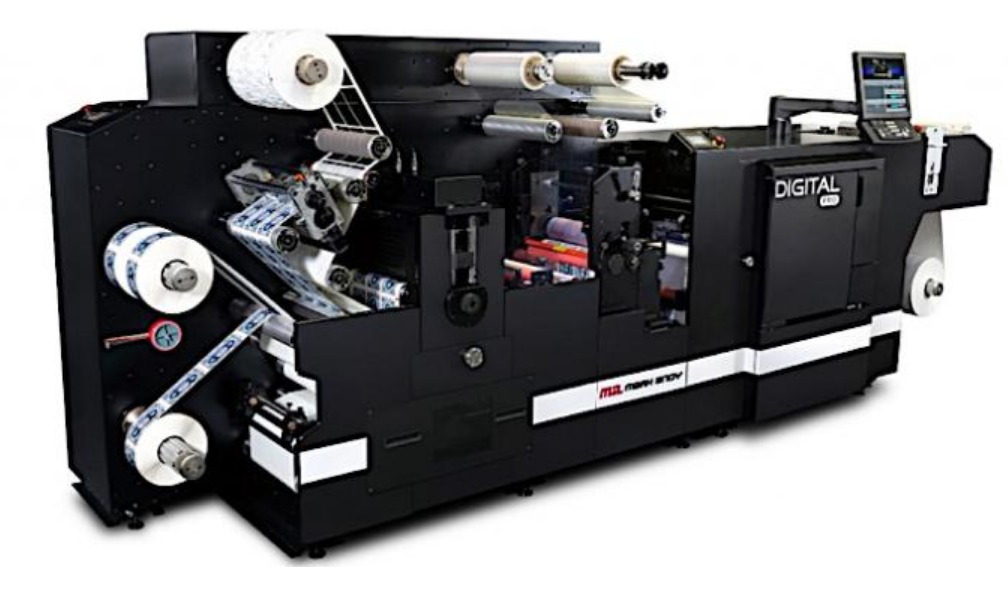 Mark Andy is extending its partnership with Konica Minolta to further its capabilities in the digital converting space. Mark Andy has announced it will serve as the exclusive provider of Konica Minolta's newest technology, the Accurio Label 400 (AL400), for the labels and packaging industry.
Integrating this new toner-based print technology into its Digital Pro (DPro) line, Mark Andy is developing its first 5-color (CMYK and white) toner, end-to-end label and converting solution. Combining Konica Minolta's strengths in digital marking with Mark Andy's strengths in web handling, decorating and converting, this new press will create a single-pass, high-quality, fast, and cost-effective solution for the mid-to-high volume label market.
The addition of digital white toner provides Mark Andy customers – for the first time – with the flexibility to use clear or metallic substrates for short-run label work without needing to use a flexo plate. Customers will find increased productivity moving between jobs and ease of utilizing white within variable graphics. The new press provides improved print speeds up to 140 fpm, as well. Similarly, converters will realize added savings associated with waste reduction, lower consumable costs, and extended duty cycles.
Mark Andy's current Digital Pro machine continues as the most affordable entry point to the Digital Pro family of products. The development of the Digital Pro family of presses continues to align with Mark Andy's strategy of offering modular, upgradeable solutions.
This is the latest in a long line of products resulting from over five years of cooperation between the organizations. Jason Desai, Mark Andy CEO, explains that by leveraging individual and collective strengths of each company, the partnership has extended capabilities of the Digital Pro family of products and has established a new price-value position in the market.
"Incorporating Konica Minolta digital marking technology with Mark Andy's expertise in converting allows for business expansion and improved customer value for the label converters," says Desai. "This partnership is transforming the industry with the highest quality, most reliable, and cost-effective solutions as demonstrated by more than 300 digital press installations. And today, we continue to pursue practical technology solutions for converters of all sizes at a realizable price point."
William Troxil, Konica Minolta president, Industrial Print & Production Print, North America, agrees that the successful partnership has benefited the entire industry.
"Our organizations share a strong partnership that continues to respond to, and anticipate, the needs of a growing industry," he says. "While our partnership with Mark Andy has established our production print technology in a uniquely advantaged position, the true beneficiaries are label and packaging converters industry wide. Integrating our technologies and overall strengths provides a right-sized solution for the industry, allowing for ease of entry into the Digital Transformation (DX) journey."