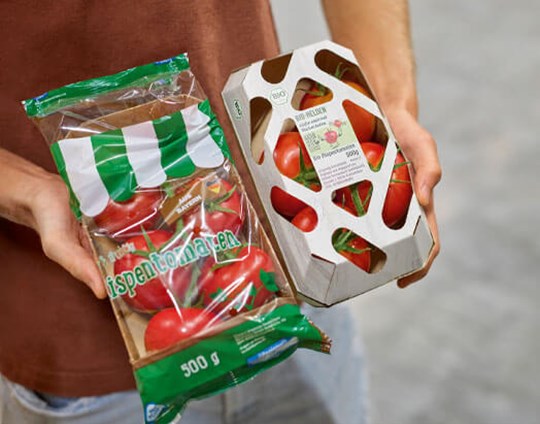 Mondi, a leading global packaging and paper manufacturer, has collaborated with BIOhof Kirchweidach, an organic farm in Bavaria, to design a sustainable packaging solution for 500g packs of tomatoes on the vine to be distributed to PENNY supermarkets, owned by major German retailer REWE Group.
Coral Tray fulfils BIOhof's objective of replacing its previous packaging, which used 2.5 g of plastic film per pack, with a recyclable and plastic-free solution, supporting REWE Group's sustainability goals. It's called 'Coral Tray' because of its resemblance to undersea coral and contribution to reducing plastic waste, potentially helping to protect marine life. This innovative new packaging is fully recyclable and made of renewable material and recycled corrugated board, which has an average recycling rate of over 80% in Europe.
Packaging experts at Mondi Grünburg in Austria worked with BIOhof's team to design the one-piece corrugated tray with integrated lid made of lightweight F-Flute. Both the fluting and outer liner are made of 100% recycled material and the KraftTop inner liner ensures it meets food contact requirements. The new solution can be mechanised for up to six different package sizes and gives BIOhof the option of using it for other small organic produce.