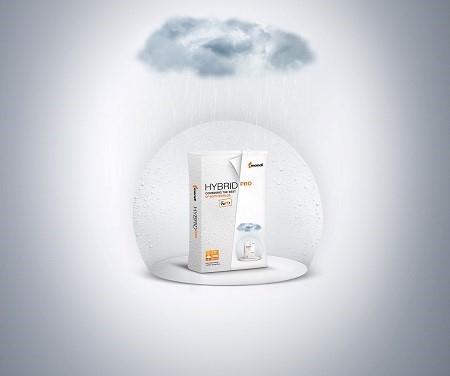 The bag belongs to Mondi's next generation of water-repellent bags, developed as part of the company's focus on exciting new solutions achieved through ongoing R&D work and collaboration with customers.
The HYBRIDPRO is a bag with an outer ply made of high-density polyethylene (HDPE) film. It is mainly used in the cement and building materials industries, combining the best of both worlds: it offers all the protective advantages of a plastic bag, yet is fillable on conventional paper bag filling systems.
The bag's outer HDPE ply – which forms the barrier against rain, moisture and dust – provides for an attractive and modern appearance. The HDPE film can be printed in up to eight colours, including on the bottom patches, for a glossy, premium look, and the paper ply is available in a bleached or an unbleached version.
Furthermore, the HYBRIDPRO bag allows high-speed filling, with deaeration twice as fast as with a standard three-ply bag (35 m3/h versus 18 m3/h tested on Mega Gurley equipment at Mondi's Bag Application Centre in Austria). Since the bag can be filled on conventional high-speed filling systems, no investment in expensive filling equipment is required.
Mondi's HYBRIDPRO is a high-quality packaging solution conceived for high-quality contents. It is particularly suitable for building materials, including gypsum and cement, as well as many other moisture-sensitive products. Moreover, it is an eco-friendly solution: the total grammage of material used is less than with standard three-ply designs used for the same purpose. Last but not least, the plastic and paper components are easy to separate, for optimum recyclability.
Visit the Mondi booth at RosUpack in Moscow in Pavilion 1, Hall 4, Booth D103, from 14 to 17 June to see the HYBRIDPRO bag and the wide range of other Mondi products. Mondi delivers fresh ideas and real solutions for customers' packaging needs.