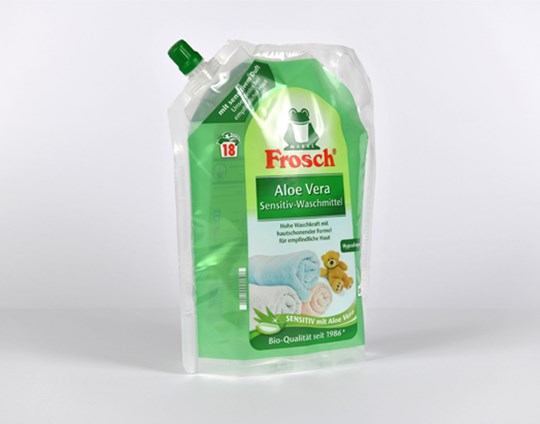 The resulting product, called StripPouch, recently earned certification from two independent bodies for being 100% recyclable, and has been honoured with several industry awards. The product's first commercial application of Werner & Mertz's Frosch-brand liquid detergents, is anticipated to be on store shelves by the end of this year.
"Werner & Mertz gave us a challenge to come up with a fully recyclable packaging solution. We embraced this and by applying our EcoSolutions approach, we have both met the challenge and been recognised for our industry effort. Now, applying the knowledge gained from developing StripPouch, others also stand to benefit from Mondi's approach to being sustainable by design." Jens Kösters, manager of technical services for Mondi Consumer Goods Packaging.
The two independent bodies who have certified that the pouch is 100% recyclable are:
The institut cyclos-HTP (the Institute for Recyclability and Product Responsibility) and Cologne-based environmental services company Interseroh, with the StripPouch being deemed to be a "fully optimised sustainable design."
Industry recognition
StripPouch, has also won the following awards:
Austrian magazine Kompack has recognised the StripPouch with its Kompack Green Packaging Star Award®.
The Deutsches Verpackungsinstitut e.V. (DVI) named the package a winner in the Sustainability category of its 2019 competition.
Dow also has honoured StripPouch as a Diamond Finalist as well as with a unique collaboration honorable mention in its 2019 Packaging Innovation Award.
Mondi aims to be sustainable by design, and lives by the mantra: "Paper where possible, plastic when useful." To facilitate this, it has implemented EcoSolutions –– a customer-centric approach to partnering with clients to deliver on their sustainability goals. This approach empowers Mondi's partners to meet their commitments through three actions: replace, reduce and recycle.
The StripPouch project with Werner & Mertz is an ideal example of specifically designing for recycling purposes. DVI stated: "This bag impressively demonstrates what can already be achieved today with a consistent recycling approach to design."
Mondi commissioned sustainability services firm Quantis to conduct a comparative life cycle assessment (LCA) of the StripPouch that holds 2 litres of detergent. Quantis conluded that the StripPouch is the best option in comparison to a PET/PE pouch or rigid HDPE bottle regarding carbon footprint. It can save up to 70% of CO2 emissions compared to the HDPE bottle. The 100% recycling potential, meanwhile, helps to decrease even more of its CO2 emissions compared to the PET/PE pouch, the study concluded.
Quantis examined the global warming potential (GWP, expressed in kg CO2eq), which analyses the impacts on climate change due to emissions of greenhouse gases. The StripPouch's potential is 61 kg CO2eq, compared to 105 kg CO2eq for a PET/PE pouch, and 197 kg CO2eq for a HDPE rigid bottle. Its research further determined that StripPouch production consumed about 80% of the water needed to make a similar PET/PE pouch, and just 40% of the water needed to produce an HDPE rigid bottle.