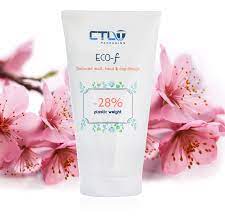 The image and potential of plastics has taken a battering in recent years, but we firmly believe that these materials have their place when used and disposed of responsibly.
The new Eco-F Lightweight tube has been developed with this in mind, benefitting from a 33.6% lighter sleeve, reduced in thickness from 0.6mm to 0.4mm, a 21.4% lighter head and a low profile flip top cap which is 20.6% lighter than the standard closure.
This new development will be available with a 50mm diameter to begin with, allowing for fill sizes of 100ml – 250ml. Compared with the same spec of CTL's standard tube and cap, each part's reduction results in a total pack weight loss of 27.9% (50mm x 155mm – 200ml).