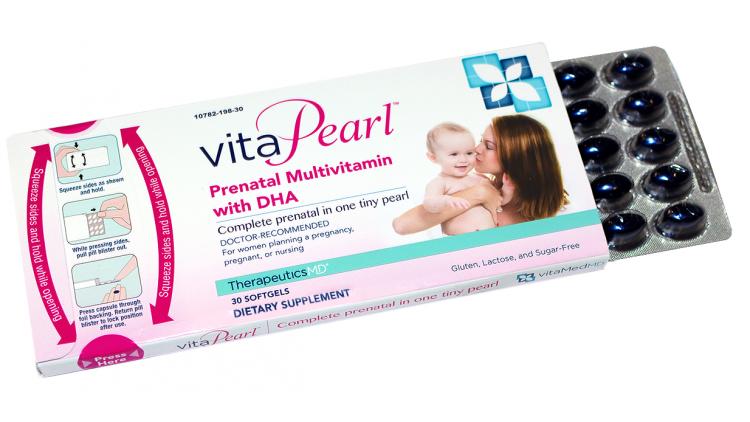 A new innovation in pharma packaging will keep your child safe from ingesting harmful iron-containing products. VitaPearl's new child resistant prenatal vitamin package was designed internally at TherapeuticsMD. It offers a new blister pack system that can be easily maneuvered by expectant mothers. Iron poisoning in children can cause severe dehydration and abdominal pain so this change can help avoid dangerous situations and unnecessary discomfort for your child.
The blister packaging contains a locking mechanism that was developed by TherapeuticsMD multidisciplinary team. "They simply squeeze and hold the sides of the sleeve, slide out the pill pack and press a capsule through the foil. Graphics printed on the sleeve use simple text instructions and illustrations to show consumers how to open the package."
As a parent company of vitaMEDMD LLC and BocaGreenMD Inc. the new packaging is being implemented for multiple brands of multivitamins including VitaPearl, BocaGraanMD, and Prena1 Pearl. Since these products contain 30 mg of chelate-containing iron- the resistance rating was designed at F=1 specifications.
According to Jason Spitz, VP of Marketing and Cooperate Communications the new packaging acts as an alternative to the traditional paper/foil backed style blisters that are currently on the market. Most commonly used on birth control pills- these prove very difficult to open- at times even sending a stray pill soaring across the room where a child could easily access it. This system prevents pill losses and unnecessary frustrations.
Spitz also believes that since the pills are divided up into 30-day foils that it will make the consumer more likely to adhere to proper and consistent dosages. The graphic design of these new packages was created in house at TherapeuticsMD, as was the physical carton concept, but the execution of that concept was sent out to contractors to implement. Though these products are all pre-existing, TherapeuticsMD is confident that this packaging facelift will reengage the consumer on a visual and user level that will be safer for both expecting mothers and their children.