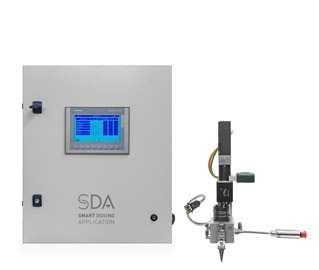 SDA has a gear pump installed in the applicator body to ensure maximum precision when applying the adhesive, and a servomotor that accurately controls the flow applied. But, by optimising the components selected, the company has created a precise, sturdy applicator that is also the lightest on the market.
SDA is connected and reports all data to the management computer system in real time. The result is total traceability of the quantity of adhesive applied, temperature, speed, etc. And, this new applicator can be configured as master or slave, depending on the client's needs, to offer greater autonomy.
With over 30 years of experience, Focke Meler Gluing Solutions is a leading company in adhesive application solutions and systems for multiple sectors: graphic arts, packaging, automotive, construction, wood and textiles, and others. In recent years, Focke Meler has increased its international presence by opening various subsidiaries in France, Germany, Italy and, more recently, the UK and US.