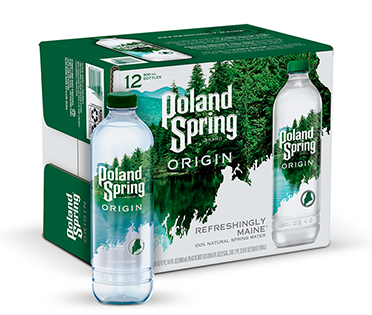 New Poland Spring ORIGIN is thoughtfully designed with a beautiful and ergonomic bottle that delivers a premium experience consumers can both see and feel. Additionally, the bottle is made from other bottles and contains 100% food-grade recycled plastic. Using recycled plastic helps keep plastic out of landfills and oceans and reduces greenhouse gases compared to using virgin plastic. Importantly, like all Poland Spring bottles, Poland Spring ORIGIN is 100% recyclable and encourages consumers to recycle the bottle once it is empty, so that it can be turned into a new bottle in the future.
"Poland Spring is a trusted brand with over 170 years of rich history and is well-known to many in the Northeast and beyond," said Yumiko Clevenger-Lee, Vice President & Chief Marketing Officer of Nestlé Waters North America. "For years we've been getting consumer letters, calls and social posts from all over the U.S. requesting we make Poland Spring available nationwide. With the launch of Poland Spring ORIGIN, we are excited to delight consumers throughout the entire USA."
Beginning in April 2019, Poland Spring ORIGIN will be nationally available to consumers on Amazon.com in a 12-pack of 900mL bottles and also through delivery by ReadyRefresh® Nestlé®. May 2019 onwards, Poland Spring ORIGIN will be available in select retail locations in Florida and Texas with plans for national retail expansion in 2020.