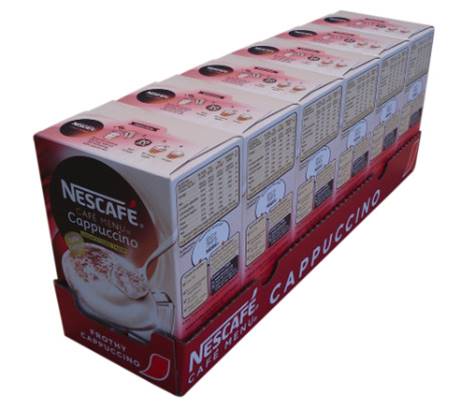 The Cepac design team has created a new pack which fully covers the product, giving it almost 100% protection against damage. This has removed the requirement for any plastic shrink. The design also incorporates a shelf ready feature which made the pack very easy to open and gave full visibility to the product. The pack was manufactured in 100% recycled board grades, which can be easily recycled. Earlier they were using 128 Tonnes of plastic shrink film to cover the product and also generated 56 Tonnes of plastic backing waste when applying labels to the plastic shrink.
Since the plastic shrink was removed from the process it became possible to image the information previously printed on the label, directly onto the box.
In this pack "SunLase technology" is used where a special pigment is added to the ink and printed onto the pack surface at the same time as the conventional inks. The pigment then reacts with a Near Infrared (NIR) laser that is integrated inline. The laser light generates a colour-change in the SunLase pigment creating a digital print of the required information. This information is variable and can be altered for every product. This eliminated the use of the label and its plastic backing.
So the re-designed pack reduced the damage to the primary packs by 99%. The pack became fully recyclable and easy to open. It has resulted in 128 Tonnes of plastic shrink being removed from the supply chain along with 56 Tonnes of label backing.