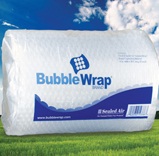 Recycling Bubble Wrap® Brand Air Cellular Packaging
Their high-performance Bubble Wrap® Brand air cellular material is manufactured with a Barrier Bubble® layer that retains air and maintains its cushioning performance. This makes it highly reusable, greatly reducing the amount of packaging material that enters the waste stream. Wherever possible, we suggest you reuse Sealed Air® air cellular cushioning material. Sealed Air utilizes a manufacturing process that co-extrudes a nylon barrier with the polyethylene for better air retention which increases its useful life expectancy. The best way to keep materials out of the waste stream is to use them as long as possible.
If one cannot reuse Sealed Air® air cellular cushioning material, it can be returned to one of the locations listed .
Recycling Paper Packaging
Most Sealed Air®paper packaging products can be recycled with corrugated containers or as mixed paper. Those products which may include a polyethylene film backing should have the plastic backing removed before adding to the recycling stream, with the exception of Korrvu® suspension and retention packaging that can be recycled with the film in place. Sealed Air's paper products are made of 100% recycled materials to help minimize environmental impact. TigerPad™ paper cushioning can be recycled with mixed paper. Additionally, the fiber is 100% renewable and all production scrap is reclaimed.
Recycling Korrvu® Packaging
Korrvu® packaging is manufactured using a standard corrugated fibreboard frame and can be easily recycled in the corrugated waste stream worldwide. Recycle Korrvu® packaging along with corrugated boxes through your normal recycling stream. Korrvu® packaging can be recycled with the film left in place. Corrugated hyrapulping facilities have been designed to recycle corrugated fibreboard which may include minor amounts of extraneous materials, such as plastic tape and labels commonly found on old corrugated containers (OCC). Korrvu® packaging is RESY approved for recycling in Germany and complies with all national and international requirements and mandates for disposal and recycling of packaging materials. Korrvu® packaging is shipped flat and assembled on-site, as needed. The high-performance design can easily be reused and is made from renewable cellulose paper fibers. It is easily recycled with common corrugated boxes.
Recycling Air Pillow Packaging
If you are sending Fill-Air®, Fill-Air® RF or Rapid Fill® material to for recycling, please do the following:
Deflate (by poking a hole in the bag) and flatten the bags.
https://www.packagingconnections.com/blog/yato-dharmastato-jaya-sanskri…
Fold the flattened material and place it inside an appropriate sized envelope or small carton.
Affix the appropriate postage to the shipping envelope or carton.
Address the envelope or carton to our address.
Fill-Air® bags are re-useable. Please re-use them in other packages wherever possible. Fill-Air® RF inflatable packaging cushions can be manually reinflated with a drinking straw for reuse. Fill-Air®, Fill-Air® RF and Rapid Fill® bags may be recycled as described below.
Fill Air® Inflatable void fill products expand on-site. A cubic foot of inflated cells, when deflated, will lose 99.3% of its volume. The deflated cells can be sent to any of a number of Sealed Air locations where they will be recycled back into LDPE.
Bags can be sent for recycling to the facility listed to the right or can be dropped off at local stores, that collect low and high density polyethylene films. Go to How2Recycle.info for more information on local recycling drop off centers in your area.
What happens to the Fill-Air® and Rapid Fill® material once it is received at the recycle center?
Upon receipt of the material, it will be ground up and re-pelletized, so it can be used to make a variety of products from trash bags to automotive parts, which can also be recycled.
Instapak® Foam Return Program
This packaging material is comprised of a creamy yellow polyurethane foam encased in a silver, white or pink polyethylene film. The cushion (both foam and film) can be returned to Sealed Air. We have established 27 return centers worldwide for Instapak® foam cushions.
Instapak® foam requires less cushioning material in each pack, reducing package size and weight. By expanding on-site as much as 200 times, it reduces the number of trucks needed for distribution. Material can also be returned to any Sealed Air location. In those communities where municipal Waste-To- Energy (WTE) incineration facilities are available, Instapak® provides a positive waste-to-combustion contribution.
Recycling Polyethylene Foam
Committed to increasing sustainability by enhancing the performance of our PE foam products with decreased use of natural resources in manufacturing by increasing recycled content. Our PE foams are classified as #4 low-density PE (LDPE) material and can be recycled in LDPE recycling systems, including our Closed Loop Recycling program
. In countries, such as Germany, where laws mandate collection and recycling of used packaging, Sealed Air® polyethylene foams fit within the established infrastructure.