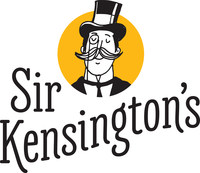 Sir Kensington's has a publicly stated packaging goal to achieve 100% recyclable and 100% recycled content in rigid plastics and fiber by 2022. With the new packaging designs rolling out, the brand is now at 24.1% in their rigid plastics goal and 84% in their fiber materials.
Sir Kensington's fans will notice that the brand's labels have undergone an upgrade as well. Led by Art Director Edward Ubiera, the new Sir Kensington's packaging includes hand-drawn custom illustrations to communicate the lighthearted, quirky nature of the Sir Kensington's brand. "Sir Kensington's is always trying to balance between integrity and charm. We tried to have a bit more fun while bringing this world to our eaters," says Edward. All of Sir Kensington's products now proudly feature third party certifications on the front of their labels such as Non-GMO Project Verified and Certified Humane© Free Range eggs.
Concurrently, Sir Kensington's was also able to upgrade all the eggs in their supply chain to be Certified Organic. While maintaining their Certified Humane© Free Range commitment, they've raised the bar for themselves to a higher standard egg. This move is part of the brand's broader sourcing strategy to double the volume of Certified Organic ingredients by 2023. With the organic egg transition, the company has increased their investment in organic ingredients from a volume of 15.7% to 19.4%.
"We are so proud to have executed a brand refresh that not only speaks more directly to our fans but also moves forward many of our impact initiatives. As a Certified B Corporation, we truly believe in using business as a force for good and I'm confident that this is proof that we're moving in the right direction," says Alexandre Medeiros, Sir Kensington's General Manager.