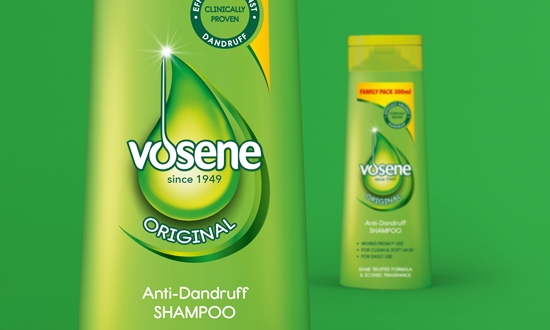 The agency was tasked to ensure the new design would clearly communicate the usage, proven formula, benefits and key difference to the rest of the Vosene portfolio whilst moving to a brand new format.
Based on a creative positioning of 'Show your inner glow',  the pack design focuses on the positive way Vosene shampoo will make you feel.
The glossy droplet eludes to the benefit of the product and the variant name is positioned on pack to cue a smile.
The pack design features a 'Clinically proven' icon to reassure consumers of the results. The iconic green remained on pack for consumer recognition and 'Since 1949' was introduced into the droplet on pack to highlight the incredible heritage of Vosene.
Alan Gilbody, founder and director at Slice Design, said: "It was key that our new proposed design helped drive a strong visual differentiation versus the other Vosene shampoo variants whilst also ensuring that this iconic brand stayed recognisable to its loyal consumers."