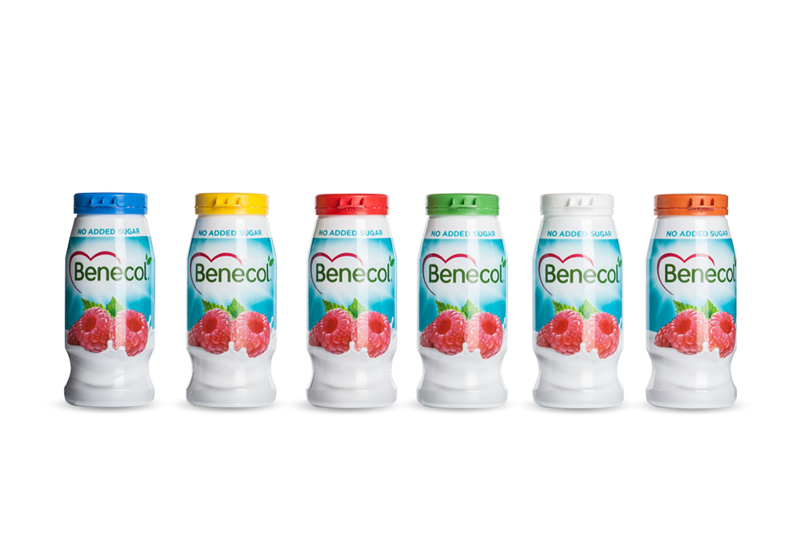 The requirements for the new generation of packaging for Benecol's yogurt drink were clearly defined: Optimize the bottle production process, improve the reliability of the caps, and make the best possible use of cutting-edge technology. Plus, the new supplier had to be capable of providing the bottle as well as the cap.
We ultimately succeeded in coming out ahead of our competitors and are now looking forward to proving our expertise on a daily basis.
Innovations in the development of the Benecol product
The precise alignment of the bottle and closure at the retaining lip, sealing cone, and tamper-evident ring made it possible to significantly reduce the force required to apply the cap and therefore also the compression resistance of the bottle.
The tear strips for the tamper-evident ring are now positioned at an angle. As a result, the strips are longer and more flexible, making it possible to virtually eliminate torn tamper-evident strips after the cap is applied.
The tamper-evident ring was equipped with special dovetail technology in order to guarantee its authenticity. Bottles that have already been opened are therefore always recognizable at first glance.
Greiner Packaging was able to reduce the overall weight of the bottle and cap, meaning approximately 70 metric tons less plastic enters circulation.
These advancements were made possible thanks to innovative Kavoblow ISBM (injection stretch blow molding) technology – which also improved the efficiency of the process significantly. This single-step blow molding technology was the only way the bottle's mouth could be produced with the precision and perfect fit that Emmi required – plus, the process of manufacturing the bottles is extremely economical. In this project, Greiner Packaging proved that Kavoblow technology is suitable for use with polypropylene and also presents the ideal solution for high-volume production scenarios.
Customized solution
The bottle and cap are produced at one of Greiner Packaging's locations in Austria, and Kavoblow systems were installed specifically for this project to enable fully automated production. "Throughout our cooperation with Greiner Packaging, we were especially impressed by the company's problem-solving expertise, their professional project management, and their end-to-end approach," stresses Bendicht Zaugg, Head of Packaging Development at Emmi. "They analyzed our requirements in detail and adapted the packaging accordingly. Furthermore, the extremely efficient and precise Kavoblow injection stretch blow molding process also meets our expectations perfectly in terms of flexibility and productivity. We are very pleased with how we worked together to successfully implement this project."