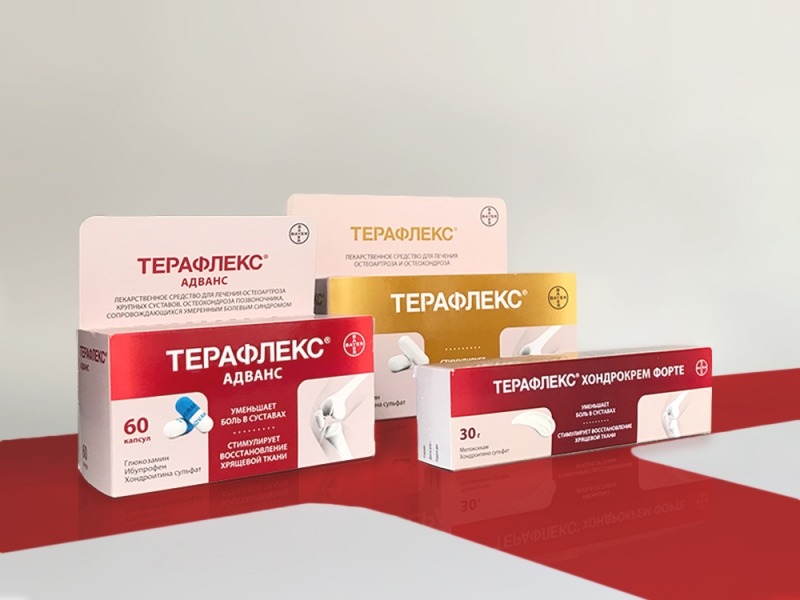 How to be globally successful in markets globally is demonstrated by our work on Bayer's Theraflex product line, which is distributed in Russia and the countries of the former CIS. Theraflex is a preparation intended to counteract the wear of joints.
In close cooperation with our glba partner agency in Moscow and the Russian Bayer marketing team, we strategically worked up the product and brand architecture, positioned the brand, redesigned the brand roof and visualized it in packaging design.
Creality has strategically worked out the product and brand architecture in such a way that it is comprehensible on the market side and provides orderly space for the new products of the Theraflex pipeline.
Based on a "Bayer Market Segmentation" based on extensive market research, we subsequently developed three different routes.
Route 1: Deduction via Consumer's Perception
Route 2: Deduction via Treatment
Route 3: Deduction via Target Audience Focus
For each of the three routes, the brand positioning was worked out in detail, the brand roof redesigned and the packaging design visualized.
The work up to the final decision for one of the three routes was carried out in close cooperation with our partner agency glba Moscow (Depot WPF).
For the concrete implementation up to the final printing of the packaging, glba Moscow has taken over the lead in close cooperation with the Russian marketing team of Bayer.
The Theraflex Case is an exciting example of how you can conquer local markets around the world, if you really understand your trade, have the right network partners and can access first-hand fundamental market and consumer insights.