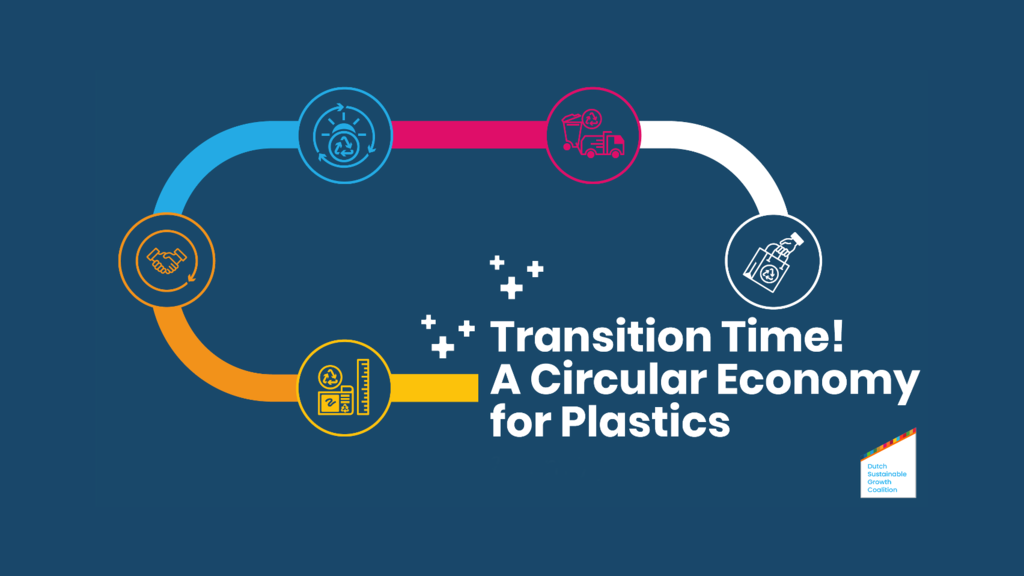 Publication 'Transition Time! A circular economy for plastics'
In the publication 'Transition Time! A circular economy for plastics' gives the coalition insight into the plastic challenges, shares innovative cases and provides specific recommendations to stimulate joint action. This publication was presented on January 13 by Jan Peter Balkenende, chairman of the DSGC, to the Dutch cabinet and Frans Timmermans, Executive Vice-President European Commission & European Green Deal. "A transition of this magnitude requires shared values ​​and the willingness of various partners to create a responsible society in which plastic - which is now too often regarded as waste - is a source,"  says Jan Peter Balkenende. 
Benefits
The benefits of the transition are enormous. In a circular economy, the amount of plastic in the environment will radically decrease. At the same time, energy and water consumption will decrease significantly, as will CO2 emissions. New technologies can be scaled up to innovative applications to ensure that plastic retains its value as a secondary raw material. 
Frans Timmermans agreed while receiving the publication that the plastic issue must be tackled together. "This publication is urgently needed: we want to significantly reduce the amount of plastics and plastics that are incinerated in the EU and bridge the price difference between new plastics and recycled plastics. We will focus on this when revising various guidelines. "
Collaboration between governments, knowledge institutions, civil society organizations and the business community is crucial in order to jointly close the chain. DSGC members describe innovative cases from their own practice, in which they show how they contribute concretely to closing the plastic chain together with stakeholders. The shared knowledge & experience can be a source of inspiration for other companies to also invest in a circular economy. For initiatives to develop into impactful sustainable solutions, both harmonized policy and effective legal frameworks are of great importance, for which the DSGC shares specific recommendations.
Value chain stages
The publication covers all stages of the value chain:
Promoting Principles of Circular Design : Ensuring that plastic can become a new secondary raw material.
Conscious Customer & Consumer Use : Ensuring that plastic is preserved within the economy
Championing Collection Infrastructure : Establishing effective and harmonized collection systems
Sustainable Production & Innovate Recycling : Scaling up renewable raw materials and advanced recycling
Collectively Closing the Loop : Creating impact through international collaboration across the entire value chain