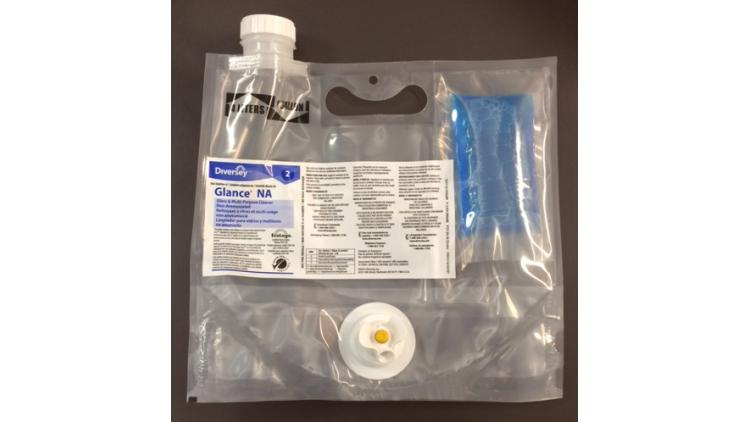 Smart Mix ProTM/MC makes professional cleaning results available to small sites. Designed to use less, waste less, and be more convenient.
Accurate
1 Smart Mix ProTM/MC pouch creates 1 Gallon of ReadyTo-Use solution, or 4 Quart bottles •
2. Perfect mixture of concentrate and water is made easy with the patented Smart Mix ProTM/MC Technology Professional Results
• Reduces chemical waste
• Shelf stable mixture good for up to six weeks
• A case of Smart Mix ProTM/MC pouches will prepare 8 x 1qt Ready-To-Use bottles, a reduction of 80% in your storage space requirements
User Friendly
• Convenient alternative to Ready-To-Use spray bottles
• Light weight case is small parcel shippable
• Minimal training required
• Simple to use just add water, burst the chemical pouch and the solution is ready
Safer
• The sealed inner pouch ensures user protection from the concentrated chemical throughout the simple mixing process
Smart Mix ProTM/MC was designed for cleaning tasks that are performed with spray trigger applications and is ideal for smaller sites with tight budgets and limited storage space. Unlike traditional Ready-To-Use packaging, Smart Mix ProTM/MC will significantly reduce your inventory management while reducing inventory costs. Its' safe and lightweight case is small parcel shippable to greatly reduce transport costs and increase time savings.
Smart Mix ProTM/MC takes the guesswork out of the cleaning process by diluting the right amount of product every time, making it a most convenient choice.
1. Remove the yellow cap & fill pouch to top fill line with water off virtually any faucet. Re-thread cap after filling the pouch with water.
2. Fold and pinch the inner pouch to release the perfect dose for creating one gallon of perfectly mixed end use solution. NOTE: Inner pouch will fully drain concentrate residue in 20 minutes.
3. Slightly shake pouch to disperse concentrate. 4. Dispense into a properly labeled spray bottle.