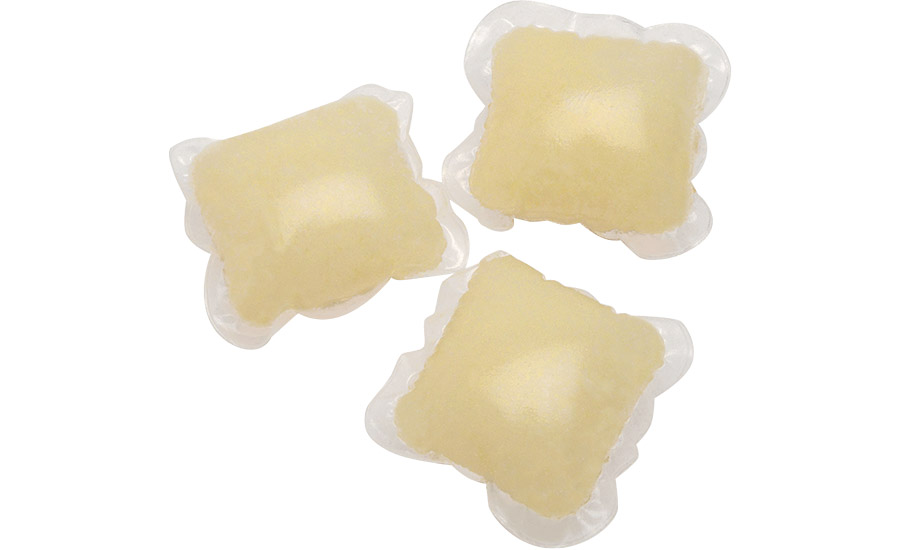 Consumers are growing more accustomed to seeing water-soluble, unit-dose pods on shelves in the laundry and dishwasher detergent aisles, but now they can also find these little pods next to cans of shaving cream. San Francisco-based Pacific Shaving Co. developed its new Single-Use Shaving Cream Minis in collaboration with Merrillville, Indiana-based MonoSol, a division of Kuraray that manufactures water-soluble films for products like unit-dose laundry. The premeasured mini pods dissolve with water in the user's palm and transform into a lather that can be applied to the face or other parts of the body, leaving no waste behind. "There really hasn't been new innovation in the shave preparation category since shaving gel was introduced almost 50 years ago," says Stan Ades, co-founder of Pacific Shaving Co. "We saw an important opportunity to change that with the Single-Use Shaving Cream Minis." Forty single-serve mini pods come in a standup pouch, which is supplied by Irvine, California-based Excel Packaging. The standup pouches containing the pods are made from a high-barrier PET film that's laminated to a linear low-density polyethylene film.
All About the Film
To develop the shaving cream minis, MonoSol leaned on its Vivos film line, which can create individual pouches, sachets or delivery systems that disappear and release their contents when exposed to hot or cold liquids. Vivos films are transparent, odorless and tasteless, and are composed of a proprietary blend of food-grade ingredients. "We're always asking, 'What can't we put in a packet that dissolves in water?'"
 Two of the biggest obstacles MonoSol faced with developing the film were first ensuring that the film maintained its integrity throughout the entire supply chain until it reached the hand of the consumer, and then making sure the film dissolved as quickly as possible when it came into contact with water.  MonoSol. "One of the key properties here is really having that balance figured out in terms of the technology development. The Vivos films used for the mini shaving pods are degradable.The equipment used to manufacture the film line due to trade secrets,  that many times MonoSol will send representatives from its technical service group to assist customers – who might be using vertical form, fill and seal equipment, for example – with the converting process. "We have very close relationships with equipment manufacturers and stay close with them in order to stay up to date on the latest and greatest innovations of conversion technology, so that we are in the right position to go to a customer and help them scale up and convert our film appropriately," he says. A Growing Trend In North America, the detergent unit-dose market has grown to 16 percent of the total detergent market compared to last year, which was around 12 percent, Herrmanns says. In Europe, the market grew from less than 2 percent in 2016 to 7 percent this year. He cites the success of the MonoDose concept – another water-soluble film from MonoSol designed for detergents, agrochemicals and fertilizers, for example – in the detergent industry as being a factor for this growth. These products could also spread to other consumer market segments in personal care, such as shampoo, lotion and bath oil. "When you think of the shaving (cream) minis, what Pacific Shaving Co. did very well was to also provide some videos, tutorials, to help the consumer understand how to use the product appropriately.