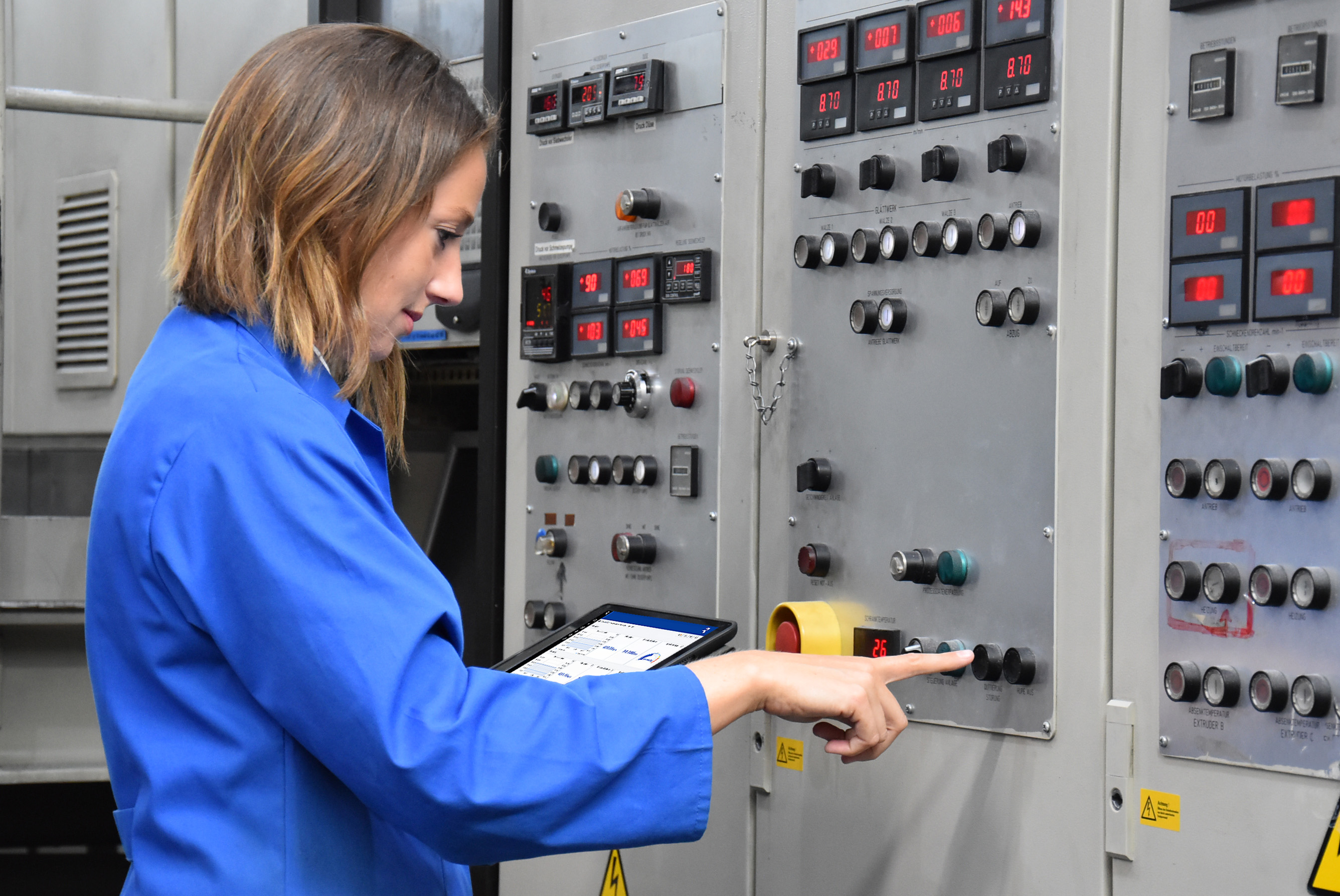 Troisdorf/ Cologne – Silver plastics, one of the leading German manufacturers of plastic packaging in the food industry, is now deploying a new solution to connect its machines. The connectivity solution is designed to improve the visibility and use of production data. silver plastics is therefore cooperating with the software company RE: GmbH, a corporate start-up of the Reifenhäuser Group. As an initial step, RE: GmbH has connected two machines at the facility in Troisdorf to the c.Hub platform and has developed a dashboard for data visualization.
"It is very valuable for us to now gain real time insight into the production data of all connected machines. After all, the c.Hub allows us to connect both older and new machinery," emphasizes Daniel Arens, Head of Maintenance at silver plastics. "The dashboard makes it easy to see how production is going - even from the office." Thorsten Reckelkamm, Project Manager at RE: GmbH, explains, " We have the ambition to digitize the extrusion industry. So far, it is still very common to capture data on paper or in many separate systems. This is inaccurate and prone to errors. We are pleased to have now gained a partner in silver plastics that could set a new trend in the industry."
In addition to the management, it is primarily the maintenance department which benefits from the new solution. " We now receive data that is much more accurate and reliable than paper notes," emphasizes Peter Landsberg, Automation Engineer at silver plastics. "Previously, machine operators used to check the values directly on the machine at regular intervals. But if, for example, a temperature fluctuation occurs between these periods, they do not notice it. The new dashboard helps us to identify production errors at an early stage and to better localize them. We can also derive more precisely whether and where maintenance is necessary," says Landsberg. The connectivity solution is initially designed as a proof of concept. In the next step, additional machines will be connected and linked to further apps, for example for Overall Equipment Efficiency (OEE).
About silver plastics
Silver plastics® GmbH & Co. KG is a leading manufacturer of plastic packaging. Since 1967, the company has been producing in Troisdorf, North Rhine-Westphalia, on a total of 56,000 m² factory space. With approx. 200 employees and an annual turnover of 50 million euros, an output of up to one billion certified packages is produced annually. Since a social mindset shift from economy to ecology is already taking place in the light of future generations, silver plastics® is aware of its responsibility and has long since aligned its entire strategy as well as its research and development towards sustainability. With the foundation of the Golden Fibres brand, silver plastics® is henceforth setting an example that aligning the company's strategy with the pillars "Circular Economy" and "Naturally Organic" is the right combination for a sustainable future in the packaging industry.
About RE: GmbH
RE: strongly believes that sustainable production is closely linked to data transparency and customer empowerment. The software company helps its customers to gain insights into their processes and optimize production using a single point of truth for all relevant data. RE: solutions enable plastic film, sheet and nonwoven manufacturers to utilize their data to improve their OEE without having a vendor lock-in. As a corporate start-up of the Reifenhäuser Group we combine the best of both worlds – the experience and know-how of the leading machine manufacturer for extrusion lines with the vibrant culture of a start-up.
Sebastian Kremer
CSO – Chief Sales & Marketing Officer
marketing@silverplastics.de
+49 2241 8808 0