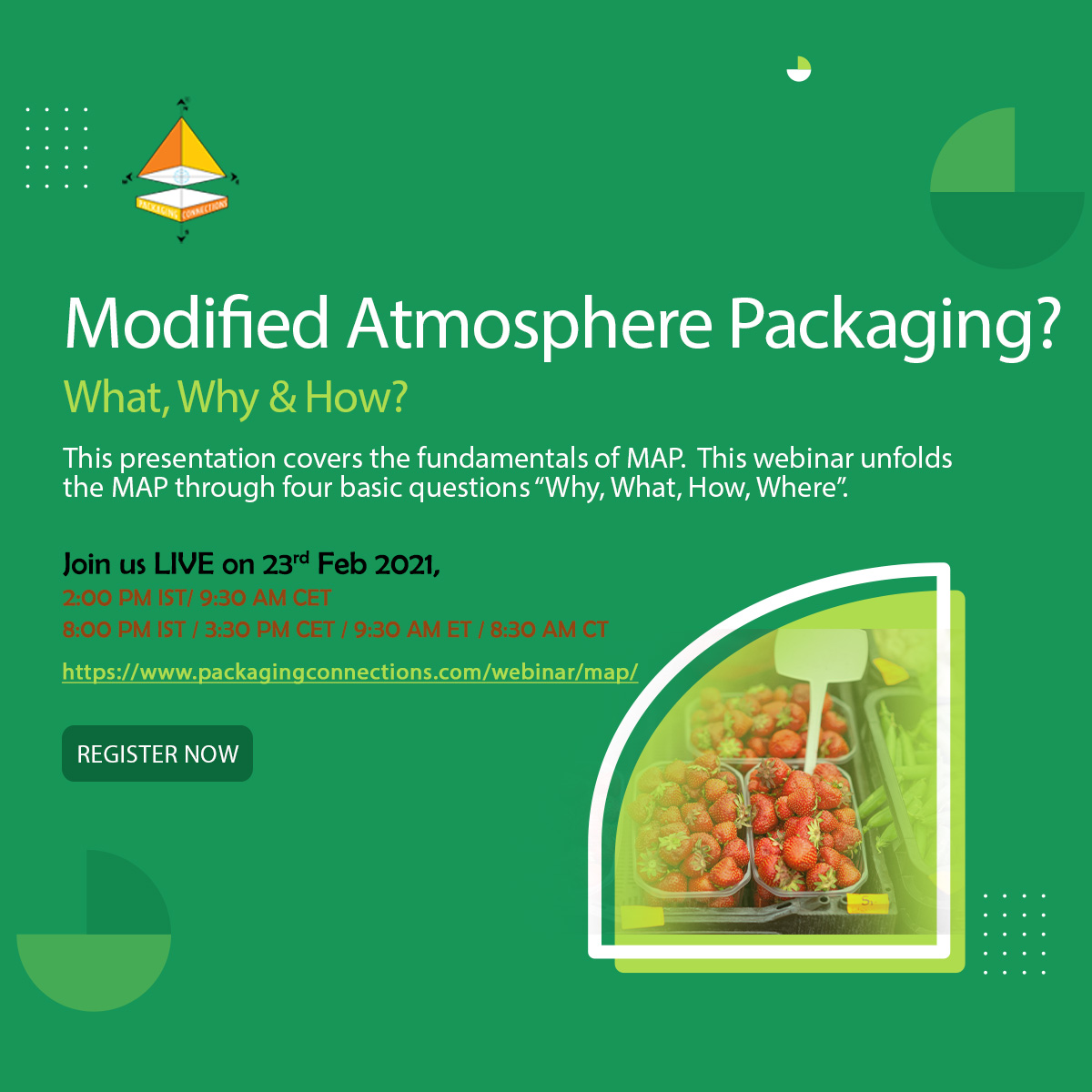 Gurugram, India, 23 Feb 2021- Packaging Connections has started with a series of webinars during January'2021. After successfully completing the first two on "Packaging Connections A New Start-2021"and "Functional and Qualification test for Prefilled Syringes". The company is coming up with a new free webinar on an important topic MAP. The company has completed the initial research on "Modified Atmosphere Packaging- What, Why and How?" The webinar will cover the following topics like:
History, What is Map? Why Map? How Map? Where to Map?, Active Packaging, Quality and Testing Requirement, Safety aspects of Map, Map Regulation, Advantages of Map, Disadvantages of Map and lot of topics related to the Map.
Food distribution has undergone two major revolutions in the last century, canning and freezing. These gave consumers easy availability two most type of produce. However, energy crisis, ecological awareness and demand for healthy and fresh food have created a need for technology that allows distribution of fresh produce around the year. It uses minimum processing and little energy and maximize nutrition and flavour. Modified Atmosphere Packaging (MAP) theoretically, offers a possibility of meeting these requirements.
Modified Atmosphere Packaging (MAP) is a packaging system that involves changing the gaseous atmosphere surrounding a food product inside a pack and employing packaging materials and formats with an inside a pack, and employing packaging materials and formats with an appropriate level of gas barrier to maintain the changed atmosphere at an acceptable level for preservation of the food. Modified atmosphere packaging has its benefit of provides longer shelf life with higher quality, produce less waste, more sales opportunities, lesser use of preservatives and last but not least appealing package design. It has few limitations also high complexity, relatively high cost.
This presentation covers the fundamentals of MAP. This webinar unfolds the MAP through our basic questions "why, what, how, where".
This webinar would also take its audience through many examples that are already implemented. Details of webinar are as follows:
Topic: Modified Atmosphere Packaging- What, Why and How?
Presenter(s): Sandeep Goyal, Founder & CEO Packaging Connections
Venue: Digital world through Gotowebinar platform
Date: 23 February 2021
Time: 2:00pm IST /9:30 am CET
          8:00pm IST/ 3:30pm CET/ 9:30am ET/ 8:30am CT
Link to join: Modified Atmosphere Packaging- What, Why and How? (packagingconnections.com)
PackagingConnections team look forward to meet you virtually.
For more information, write to Packaging Connections at info@packagingconnections.com.
About Packaging Connections Founded in 2005, Sanex started with an online platform as "your destination for anything in packaging". The company progressed with innovative models of bringing new technologies to world through support to foreign packaging companies. Sanex is a company of packaging professionals who have worked with multinationals for live packaging projects. This is first packaging consulting company to have ISO 9001:2015 certification. Sanex is Indian partner for top German pharma companies and have a wide network of packaging professionals across the globe. Witnessing fast brand recognition and network growth, company has come up with various verticals in packaging. The company has given niche solutions to packaging industry such as packaging brains (job dedicated portal), online packaging material store and packaging books. The newest service is into Packaging Education and the company has launched "The Big Book of Packaging - Science, Art & Technology". Please find more details on www.packagingconnections.com/about-us.htm
Sandeep Kumar Goyal
CEO & Founder of the company
info@packagingconnections.com
01244965770