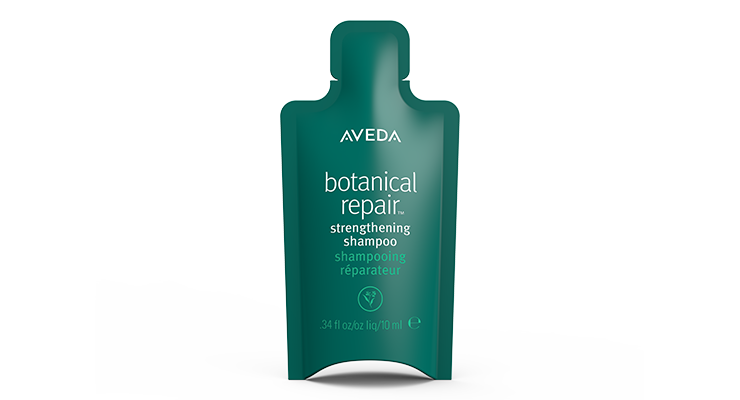 Aveda, the Estee Lauder Companies brand known for its mission of sustainability, has announced a partnership with Xela Pack, in the development of what they say is "prestige beauty's first-ever paper-based, locally recyclable sachet." According to the brand, this partnership reflects Aveda's commitment to implement "cutting edge innovations and the design-for-recyclability principles that are guided by Aveda's mission, which is centered on environmental leadership and responsibility." 
 
In addition to being curbside recyclable by European and UK consumers at the end of life, the sachets have been designed with sustainability in mind. They were studied in detail through a peer-reviewed life-cycle assessment, which calculated a reduction of 36-68% in water consumption and 37-64% in emissions compared to multi-laminate sachets commonly used in the industry, which are typically made by combining layers of polyester, polyethylene and aluminum, and which are not curbside recyclable due to their multi-material construction and small sizes.
 
Edmond Irizarry, Aveda's executive director, global package development said, "At Aveda, we understand the relevance of sampling our products in a sustainable way: in-line with our mission, and without compromise on product quality or consumer experience. I am extremely proud of our 3-year development partnership with Xela Pack to deliver this breakthrough sampling innovation. We look forward to expanding this technology to other markets, brands and categories in the near future." 
 
Carolynn O'Connor, director of sales at Xela Pack, said, "The process of partnering with Aveda on this launch has been a synergistic dream come true, as both Aveda and Xela Pack have been leaders of sustainability and innovation for decades. Having the Aveda brand be the first to launch in this new recyclable Xela Pack is a perfect testimonial to our company's continued mission of sustainability in packaging." 
 
The new paper-based sachet is slated to launch in select countries in 2022.