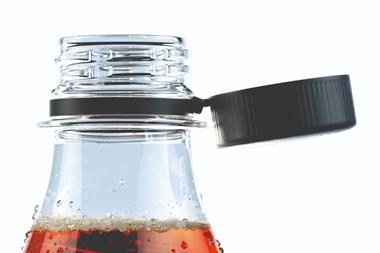 Coca-Cola is adding attached caps to its plastic bottles in a bid to ramp up their recyclability.
The fizzy pop giant has this week kicked off production of new tethered caps across 1.5l bottles of Coca-Cola Zero, Fanta and Diet Coke, with an eye to rolling them out across all plastic bottles in its entire range of brands by early 2024.
The switch would mean "the cap stays connected to the bottle after opening, so the whole plastic bottle and attached cap can be recycled together, reducing the potential for it to be littered while still giving consumers a positive drinking experience", said the brand.
It's bottle caps were already recyclable, but were "often discarded and littered", it said.
The move marked "a small change that we hope will have a big impact, ensuring that when consumers recycle our bottles, no cap gets left behind", said Coca-Cola Europacific Partners GM Stephen Moorhouse. "We recognise that we have a leading role to play in pushing innovation and design to produce more high-quality recycled plastic which can be converted into new bottles." 
It's the latest in a series of sustainable packaging plays from the business. Last year, for instance, saw it roll out on-the-go bottles made of 100% recycled plastic, and move from plastic to paper straws on kids' drink brand Capri-Sun.
The new caps are being manufactured at CCEP's factory in East Kilbride, Scotland – the recipient of a £32m cash injection over the last five years.