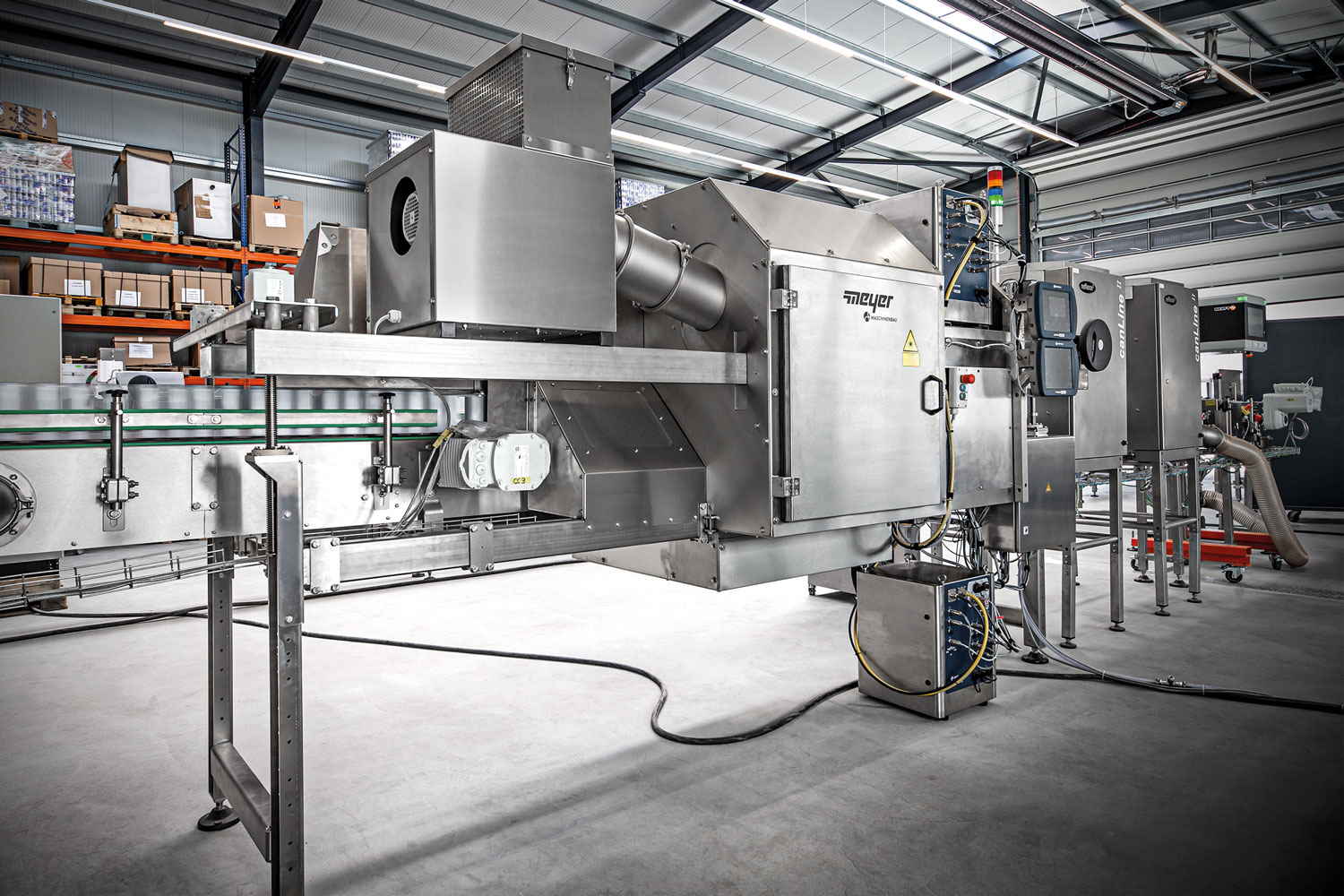 High-speed, fault-free, resource-efficient filling can now be achieved on beverage can lines with limited space thanks to a new solution developed in partnership by H.F. Meyer Maschinenbau GmbH & Co. KG, Domino Deutschland GmbH, and HEUFT SYSTEMTECHNIK GMBH.
Filling requirements of more than 100,000 units per hour are not uncommon on beverage canning lines. With the right equipment, conveying, marking, and in-line inspection are possible BEFORE filling, making even higher speeds possible.
Very high speeds typically require supplying filling machines with packaging via two lanes instead of one – resulting in additional requirements for components, space, energy, and costs.
Previously, beverage can fillers wanting to save space and conserve resources by only using one lane had to make do with a lower output. But now, three experienced suppliers have pooled their competences, enabling can fillers to achieve a significantly higher output, with this new, compact, all-in-one solution.
Empty can handling and inspection at top speed
By utilising empty cans, a filler can be continuously and harmoniously supplied with fault-free, permanently marked cans via a single lane, allowing a real increase in output to over 120,000 cans/hour. The clever combination of vacuum transport systems from H.F. Meyer, laser coding from Domino, and empty can inspection from HEUFT achieves this using only one infeed lane.
The HEUFT canLine systems carry out top-down inspection of each empty can to detect faults that may harm productivity and product quality, this may include indentations in the flanged rim of the neck finish, damage to the shoulder area, contaminated inner walls, or foreign objects on the base. While simultaneously the HYVAC vacuum conveyor from H.F. Meyer transports the cans, close together and at very high speeds, along the detection stations.
Vacuum transport, laser coding and code verification
The cans are then carefully transported over the HYTRANS vacuum bridge from H. F. Meyer to allow for reliable high-speed coding with the Domino F720i fibre laser. The laser creates permanent, pin-sharp best before dates and other information to the outside of the can base. An intelligent colour sensor camera from HEUFT then reads each code and verifies the content in the same process. Being able to code before filling also saves the time-consuming double turning of full cans.
The HEUFT pusher consistently rejects any cans that are identified as faulty so that only shelf-ready examples reach the filling machine, where they are securely filled, closed and clearly labelled. Reliable coding and filling of cans at lines speeds of more than 120,000 cans per hour via one lane is only possible due to successful collaboration between three high-performance partners.
The joint all-in-one solution will soon be available to anyone who wants a cost-effective solution for safe handling, clear coding, precise in-line inspection, and fault-free filling of beverage cans, at top speeds, when working with very confined spaces. Allowing you to increase output whilst eliminating the additional costs of adding a second line.