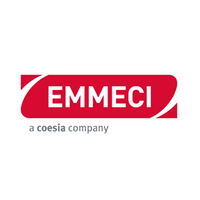 Synonymous with Made in Italy and quality, Emmeci has represented the state-of-the-art technology and innovation for customers. Thanks to experience, curiosity, continuous research and attention to customer needs, the company has managed to establish itself more and more on the reference market.
Proof of this is the enormous success achieved, in Italy and abroad, with each of the technologies developed over the years, including the first solutions launched under the Emmeci brand: automatic lidding machines.
 Anyway, we can consider as the first real turning point what occurred in the early Nineties. The launch of the first Emmeci automatic lines marked the company's worldwide success: reliability, high quality and advanced technologies were just some of the features most appreciated by customers.
The success was so astonishing that Emmeci inaugurated two branches beyond the Italian borders, arriving in Paris in 1994 with Emmeci Europe and, just 8 years later, in Providence (US) with Emmeci USA.
Emmeci passion, research and constant commitment made the company the reference point for manufacturers of luxury packaging around the world. 
 Meanwhile, at the beginning of the 2000s, Emmeci showed that it was ahead of the times by launching ever more performing machinery on the market: the first mechatronic lines, characterized by a higher level of flexibility and automation, controlled by Brushless motors and equipped with touchscreen display.
When Tradition meets Innovation: the Digital turning point
Worthy of mention is undoubtedly 2016, which represented an extremely important and full of news year for Emmeci.
During May, the company was acquired by Coesia, a group of leader companies in the sector of production of industrial solutions for packaging.  
 Furthermore, during the same year, at Drupa exhibition, the company presented to its public a real revolution in the luxury packaging production sector: the first line equipped with a special digital platform, the MC2016 DIGITAL. The Emmeci flagship.
In addition to numerous other technologies, in recent years the company has increasingly dedicated itself to the development and implementation of innovative digital lines, launching the MC2018 DIGITAL and MC2019 DIGITAL on the market.
Thanks to the three lines provided with the above-mentioned revolutionary technology, Emmeci gives its customers the possibility to produce luxury boxes of different sizes and formats (from small to extra-large), benefiting from all the advantages offered by the digital platform.
At the heart of Emmeci success there is the commitment to maintaining the highest level of quality, reliability and innovation. In addition, it is of primary importance to represent a guarantee for customers, listening to their needs and satisfying their requirements.