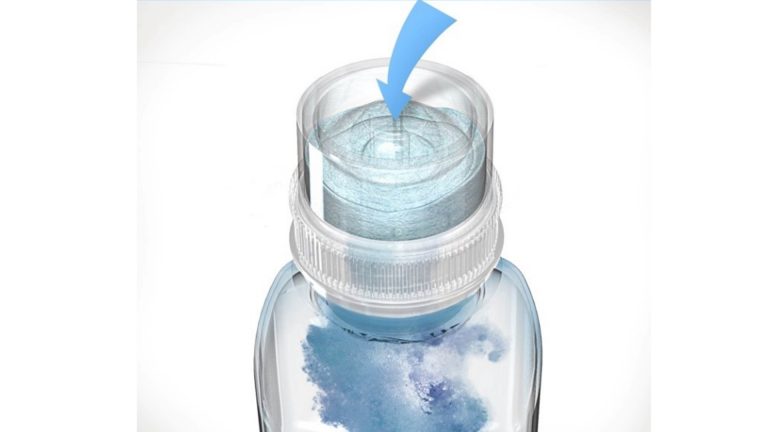 Made of recyclable and FDA compliant materials, the Karma Push Cap is a delivery system that facilitates portion control and the ability to separate ingredients that are otherwise not shelf-stable. The closure solution includes a delivery system that can infuse either powdered or liquid ingredients into almost any substance. The Karma Push Cap was first introduced in 2011 as the breakthrough component of Karma Wellness Water, a natural and nutrient-enhanced beverage promoting wellness by delivering fresh, undiluted vitamins at the time of consumption.
Jean-Marc Philbois, Aptar's Global Market Development President for Beverage, stated, "Karma fits well within Aptar's mission of delivering value-added solutions that improve consumers' lives worldwide. This design has potential to be a breakthrough package platform and answer market needs for all-natural, preservative-free, and stay-fresh products. Today, Aptar supplies innovative dispensing solutions for the food, beverage, pharmaceutical, personal care, beauty and home care markets. We have the ability to bring this innovation to these markets and in turn, help our customers differentiate their brands."
Karma's founder CJ Rapp offers, "The Karma Push Cap initiative is global in scope, and large in scale, which is why we look forward to working with Aptar. They are a market leader with a global sales organization and distribution network. Aptar has a strong track record of introducing new technologies into the market with leading brands around the world."
The impact of the Karma Push Cap has the potential to reach beyond mainstream beverages and cross into diverse industries such as dietary supplement, pharmaceutical, medical, agricultural and chemical. The possibilities for the Karma Push Cap go far beyond conventional closure technology. This patented cap technology is sophisticated, simple, and streamlined.
For more information about Karma Push Cap, visit www.KarmaCapCo.com or email info.fb@aptar.com.