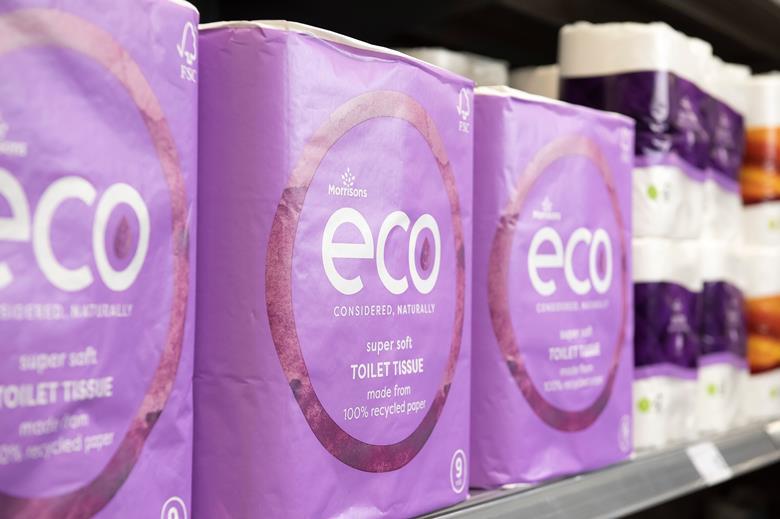 The paper packaging, which replaces the plastic film wrapping that is typically difficult to recycle at home, is 100% recyclable and FSC certified.
The toilet paper and kitchen sheets themselves are made of 100% recycled paper. Additionally, the production process for both the rolls and packaging uses fully renewable energy at the retailer's local sites across the UK.
Morrisons' new jumbo kitchen rolls retail at £3 for a two-pack, whilst the nine-pack toilet roll costs £3.50. Both products are now available in store and online.
"Millions of toilet paper and kitchen rolls are bought every day in the UK," said Morrisons' household buyer Leanne Jarrett.
"If we can remove plastic entirely from these products – and if all customers bought these alternatives – we could save nine tonnes of plastic from being used a year.
"We've priced our new eco products at only a fraction more than our standard ones, so that customers can affordably make the switch."
The move is part of Morrisons' larger efforts to combat plastic waste and provide eco-friendly alternatives to customers.
In a recent supermarket sustainability league table by consumer champion Which? UK, Morrisons scored fourth (out of 11 major grocers) for plastic reduction. Which? said it "deserved credit for a good proportion of its plastics being recyclable".
Last September, the company said it was removing plastic bags from all of its banana bundles within a six-month period, replacing them with paper bands instead.
It also announced plans to become the country's first "zero waste" supermarket, with the goal to eliminate all packaging waste and unsold food by 2025 – rolling out a trial across six stores in Edinburgh.
In addition, Morrisons has committed to remove all plastic 'bags for life' from all stores nationwide, as well as currently offering over 75 lines of loose fruit & veg, and it encourages customers to bring their own containers when shopping the food counters.