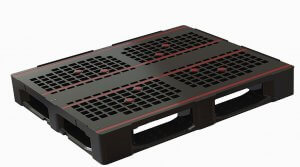 Fully customizable
The pallet's size is 1200X1000mm/48X40in, and it is available in a wide range of configurations to suit every customer's specific logistic needs. The PG1090 is available in 3- or 5-skid configurations, with an open or closed deck.
It has a racking capacity of up to 750kg/1653lb without metal reinforcements. If required, the pallet's racking capacity can be upgraded by adding metal bars. The metal bars can be added in two configurations: the "H" configuration for static loads, which provides a racking capacity of up to 1200kg/2646lb and ensures greater stability during the collection process; or reinforcement with 3 vertical metal bars which make the pallet suitable for dynamic loads of up to 2 tons/4410lb.
Much more than a packaging and shipping solution
In order to streamline the supply chain processes and save money, time and manpower, pallets can be equipped with technological add-ons to provide all the essential important information about the goods throughout the process. The pallets can be tracked in different ways: Adding a barcode label, embedding a QR code, or embedding an RFID sticker in a designated area on the pallet. Moreover, you have the option of adding a GPS/IoT tracking device, to ensure effective tracking on demand. All these features contribute to a better managed and more secure inventory, as part of efficient distribution processes.
Features and advantages
The pallets come with optional safety rims of three different heights, one of which is tailored to fit plastic crates perfectly. In addition, we developed an efficient solution for a well-known "weakest link" for many of our customers: the problem of slipping goods. We provide two solutions that prevent slipping: Anti-slip strips placed along with the pallet, and the option of adding anti-slip rubbers to support goods and prevent them from slipping off the forklift.
The pallet can be cleaned easily and quickly and is hygienically safe without any risk of pest infiltration. Furthermore, the pallet is reusable and can withstand hundreds of work cycles. These strong and durable pallets have demonstrated a high cost/benefit ratio compared to alternative solutions currently available in the market.
Iftah Poran, VP R&D at Plasgad says: "The PG1090 is an innovative pallet which offers an optimal solution for logistics systems. It's a strong and durable pallet, which will give our customers peace of mind and eliminate the need to deal with unnecessary work processes. Its huge advantage is the ability to make precise adjustments based on every customer's specific needs, so we can say that we've developed a single solution that can meet a wide range of needs. In addition, 1090 is an excellent example of Plasgad's values. We develop, manufacture, and sell reusable plastic packaging and shipping solutions since 1982. We are part of the circular economy, and seek to improve our environmental impact while helping our customers to reduce their own footprint."