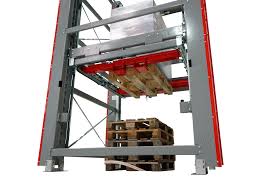 Stacking loaded pallets saves space in trucks and warehouses and thus contributes to a higher load factor and higher storage capacity. In addition, stacked pallets provide extra efficiency, as a forklift operator can move two or perhaps even three pallets at a time. The only condition is that the pallets must first be placed on top of each other, for which forklift trucks or manual stackers are usually used. This work requires not only extra time, but also the necessary precision to prevent product damage.
Qimarox's Prorunner mk10-PS makes stacking loaded pallets faster and simpler. This automatic pallet stacker takes a loaded pallet off a pallet conveyor and lifts it up. When the next pallet is transported to the same position, the stacker lowers the first pallet again until it is on top of the second. In this way, the Prorunner mk10-PS can easily create more than sixty pallet stacks per hour. All the forklift driver has to do is remove these stacks from the conveyor and transport them to the correct destination.
Extremely compact, modular design
The automatic pallet stacker is based on the modular design of the Prorunner mk10, the popular Qimarox pallet lift. The 4-column construction and the lifting mechanism are completely identical. Only the pallet lift carrier has been replaced by a newly designed pallet clamp module. It has two short forks at the front and rear that can move in and out of the pallet openings. These forks lift the pallet to any desired, adjustable height, so that the next pallet can be transported underneath.
The great advantage of the Prorunner mk10-PS is its extremely compact footprint. The 4-column construction is placed over the conveyor instead of next to it. Because the pallet is lifted at both the front and rear, no extra space is required next to the pallet conveyor, as in solutions with long forks that lift the pallet from the side. This makes the Qimarox automatic pallet stacker easy to integrate into virtually any existing final packaging or logistics system.
Proven, reliable and cost effective
The Prorunner mk10-PS offers more advantages. Because the modular design is based on the existing pallet lift that has already been used in hundreds of operations around the world, end users are assured of a proven, reliable, maintenance-friendly and cost-effective solution. The serially produced pallet lift is built exclusively from standard components.
The robust steel construction ensures great stability despite the dynamic forces that arise during operation. Lifting is done with steel chains in a durable plastic case, which ensure silent lifting. Automatic fall protection ensures safety in all cases. All of this makes the Prorunner mk10-PS a reliable solution with low total cost of ownership and short payback time.