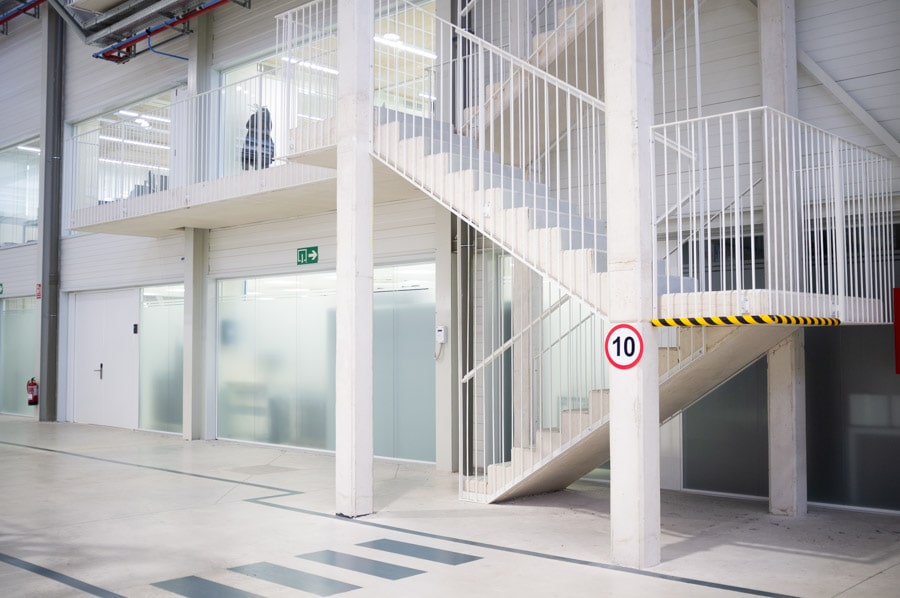 THE STRENGTH TESTING ROOM: THE TIME FACTOR AND ACCELERATED WORK CYCLES
Now it's time to put on our safety helmets and enter the Focke Meler strength testing room. The sound you can hear is the result of multiple installations operating continuously and simultaneously. The technicians working here are from the R&D&i Department and it is their job to predict the durability of products and guarantee their performance in the market.
Our equipment and components here have to pass extreme tests where the time factor plays a fundamental role. These tests include working with several types of adhesives (at several temperatures, pressures, etc.,) accelerated operating cycles, as well as performance checks on equipment with multiple firing patterns.
Josetxo Zabalza, the Director of the R&D&i Department points out that the aim of this room is to check the performance of our equipment in a potentially complex scenario for our customers. To predict a failure ahead of time helps us to avoid it.
REAL WORKING ENVIRONMENTS FOR PROTOTYPES
These types of environments also permit simulations of the working conditions the prototypes will be exposed to: "We are currently testing the performance of a new generation of high-performance applicators. The tests being carried out augur well for their market launch." (Íñigo Pla, the R&D Engineer in charge of durability).
AGEING WITHOUT LOSING QUALITY
An equipment's quality should not be measured on the basis of the first time it is used, but by paying attention to how it ages. Hence the need for the quality process to take several variables into account, such as the equipment's use, maintenance and age.
Focke Meler's quality process aims to ensure that our equipment maintains its quality despite its age and provides our customers with the best possible service.