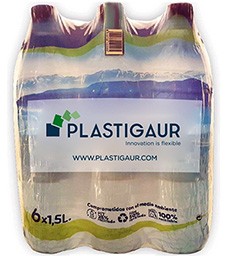 The resin is based on low-density polyethylene (LDPE) into which post-consumer recycled (PCR) material from shrink film is incorporated without sacrificing material quality and functionality in the final application. Initially introduced in late 2019, AGILITYTM CE is the first PCR product offering from Dow. The company now has PCR product offerings in its every operating region.
Inclusion of recycled content (PCR) is a vital step towards reducing the carbon footprint of packaging. The PCR content in the final shrink film developed by Plastigaur is 50%, which results in a significant reduction in carbon emissions of 25%.
Moreover, Dow has also worked with Plastigaur to reduce the thickness of this PCR-containing shrink film from 45 to 40 microns. By reducing the thickness while maintaining the packaging functionality, the film enables an additional amount of CO2 savings of 11% and reduces overall environmental impact by 32%. Incorporating this solution into packaging will help retailers and brand owners meet their sustainability goals without compromising on quality.
The commercial use of AGILITY™ CE, a resin containing 70% post-consumer recycled material, is an important moment, as Dow continues to work towards its goal of becoming the leading producer of circular plastics with the lowest CO2 footprint in the industry. This development is an example of Dow's strategy to minimize resources and plastic waste as well as reduce carbon emissions and aligns with the Company's new commitments to address plastic waste and climate change.
Agnieszka Godlewska, Marketing Manager Industrial & Consumer Packaging at Dow commented: "By working in close partnership with Plastigaur, we've been able to accelerate our innovative PCR product offering, demonstrating a commercially viable solution that uses high-quality packaging made from recycled content. This is not a concept or a project anymore, this is reality. We're excited to continue working with more partners across the value chain and pushing forward industry standards in post-consumer recycling offerings with the ultimate aim of reducing plastic waste and CO2 emissions."
"We are very excited with the development of these new collation shrink films. They bring us, and the Brand Owners, closer to reaching our sustainability goals" says Luis Artola, Managing Director at Plastigaur. "The integration of recycled materials can be a challenge, but the newest technologies and our experience in the industry, enabled us to push the boundaries and we could not be more proud of the results."